By Dr. Stacie Peterson
The interdisciplinary research at Biosphere 2 and Manzo Elementary School in Tucson, Arizona is foundational for agrivoltaics in the United States.  My first introduction to agrivoltaics came from research at these sites, in the article Agrivoltaics Provide Mutual Benefits Across the Food-Energy-Water Nexus in Drylands. The opportunity to tour these sites, meet the researchers, and provide the AgriSolar Clearinghouse network with a way to connect was exciting indeed.
The tour started at the Biosphere 2 site, where Dr. Greg Barron-Gafford and graduate students Kai Lepley, Alyssa Salazar, Nesrine Rouini, and Caleb Ortega described their research, findings, and future projects. Greg provided a background of Biosphere 2, research conducted at the site, its application to agrivoltaics throughout the country, and its correlation to work at the Manzo Agrivoltaic site.    
Kai Lepley and Nesrine Rousini then described their work employing classic plant physiological instruments and novel ground-based remote sensing tools for tracking plant phenology and growth.  Alyssa Salazar described her studies on agrivoltaics impacts to the phenology and growing season patterns of different crops across our growing seasons and how this research can help determine how this approach might extend the growing seasons of certain crops.  Caleb Ortega described his planting approach as well as efficient and creative ways of collecting data.  They then asked the tour to help plant seeds for next years' agrivoltaic experiments.
After a tour of the Biosphere 2 complex, the group travelled to Manzo Elementary Agrivoltaic site, where Mariah Rogers, Mira Kaibara, Stacy Evans, and Dr. Andrea Gerlak led a lunch-and-learn about the food science, social science, citizen science, student activities, and agrivoltaic food programs.  Mariah's research involves blind taste tests of agrivoltaic and traditionally grown crops to determine if there are detectable differences in preference.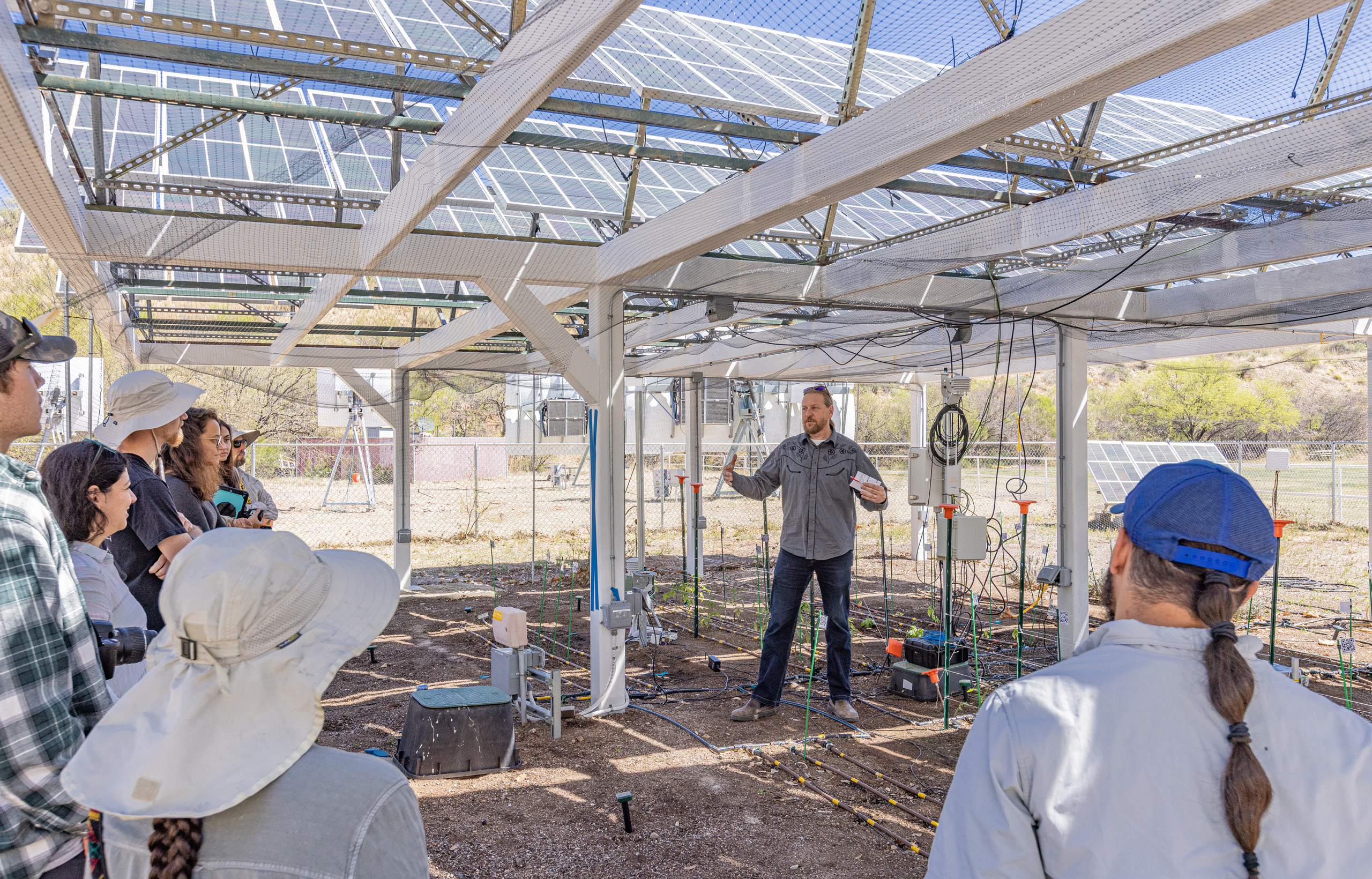 Dr. Andrea Gerlak, professor of Public Policy at the University of Arizona with extensive experience working on water resource policy and management issues, described her research, and its correlation to work by Alexis Pascaris, and their collaboration on the USDA-NIFA grant for agrivoltaics research (SCAPES project). Alexis is a social scientist whose research involves engaging key stakeholders – including farmers and solar industry professionals – to understand their perspectives about opportunities and barriers to agrivoltaics, which helps inform policy innovation and identify pathways to advance dual-use development responsibly. 
We were lucky enough to be joined by Alexis Pascaris of AgriSolar Consulting, Thomas Hickey of Sandbox Solar, Gema Martinez of BayWa r.e., Brian Naughton of Circle Two and Sandia National Laboratories, Mark Peterson of the Montana Department of Environmental Quality, and AgriSolar Clearinghouse Partner Coordinator, Danielle Miska. In coming months, we will lead tours to Minnesota, Colorado, Oregon, California, Massachusetts, Idaho, New York, and Texas. We hope you'll join us! 
https://www.agrisolarclearinghouse.org/wp-content/uploads/2022/04/Biosphere-Agrivoltaic-Research-Meckler-40-scaled.jpg
1706
2560
Emilie Ritter
https://www.agrisolarclearinghouse.org/wp-content/uploads/2022/02/AgriSolar_stacked_1-338x400.png
Emilie Ritter
2022-04-14 16:34:29
2022-04-14 16:34:30
Follow the Sun Tour: Learning from Arizona's Biosphere 2 and Manzo Elementary Agrivoltaics