Written for the AgriSolar Clearinghouse by Sarah Bendok, Growing Green
I am a rising sophomore at Phoenix Country Day School. Since I was young, I have always loved gardening. Every summer, I visit my grandma's village and work in her garden leisurely while observing other farmers in the community tirelessly performing back-breaking labor just to put food on the table. This love for gardening continued while the images of these farmers more vividly resonated in my memory. As I grew older, I started volunteering at community gardens in Arizona, such as Spaces of Opportunity, a 19-acre urban farm that promotes healthy food choices while allowing low-income individuals to grow and sell their produce. I also have volunteered with Tiger Mountain Foundation, an organization dedicated to giving jobs and empowering people in low-income communities through community gardens in South Phoenix. While volunteering, I saw how much effort and hard work these farmers put in just to take home meager earnings. At the same time, these farmers struggle with worsening environmental conditions and decreasing crop yields. Volunteering at community gardens made me realize there is a whole story behind where our food comes from, involving people making sacrifices to feed our population. I will never forget the smile on a farmer's face when he harvested 10 pounds of pepper. What if I could improve his working conditions? What if I could decrease the number of resources he uses for agriculture so he can earn more profit? What if I could plant the seeds of a more equitable, sustainable agricultural system in South Phoenix?
Workers rely only on their crops for food and income at the community gardens where I have volunteered. Since they do not have the money for the same technologies that large-scale farms have, they depend on their natural resources to help them grow their crops through agroforestry and other natural practices. Instead of destroying the biodiversity to expand their farms, they integrate different trees, shrubs, and other plants to improve soil quality, reduce water use, and use them as natural pesticides to drive insects and other pests away. By integrating these natural tools, they could increase their crop yield. Working at these gardens and learning how they grow their crops, I became interested in how we can apply these concepts to all farms and expand the use of widespread and futuristic, sustainable technologies.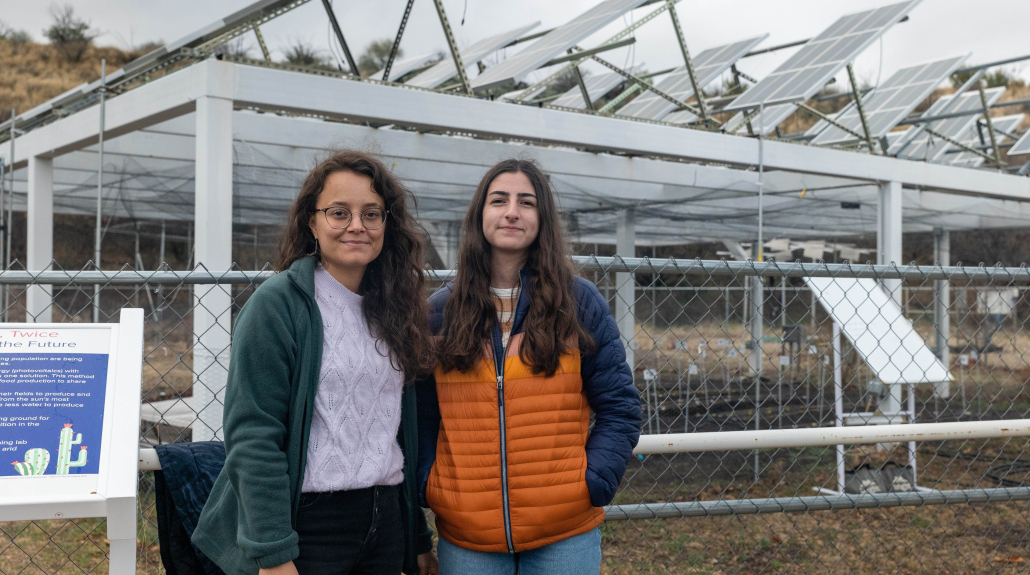 University of Arizona graduate student Nesrine Rouini (left) and Sarah Bendok at Biosphere 2's agrivoltaic solar array. Photo: NCAT
This interest made me want to contribute to making agriculture more sustainable, especially at the community gardens where I have volunteered. So, I created a 501(c)(3) nonprofit called Growing Green to help fund and implement eco-friendly technologies at these farms. Our primary goal at Growing Green is to promote technologies at the intersection of agriculture and sustainability. One of the projects I have been working on through Growing Green is creating an agrivoltaics system at Spaces of Opportunity. I reached out to AgriSolar Clearinghouse, which allowed me to be in their peer-to-peer mentoring program by connecting me with Professor Greg Barron-Gafford and his team from the University of Arizona, Nesrine Rouini, and Alyssa Salazar. They have provided me with mentorship on the design of the agrivoltaics system and phenology data collection. In addition, they invited me to an agrivoltaics farm-to-table event at Biosphere 2, where I presented my project to the attendees and could sample dishes prepared with the vegetables grown under solar panels. The food was amazing, and the vegetables did not taste any different from the ones that are not grown with agrivoltaics. Separately, I have worked with Fundusol LLC, which has also helped me design the agrivoltaics system by entering the location of the system and crops to be planted into their proprietary algorithm to determine the optimal angle and spacing of the solar panels. Because of these mentorships, I have been able to teach everything I learned to farmers, solar developers, and others in my community about the benefits agrivoltaics and the significant and positive changes it could bring if implemented. 
To build this 5-KW agrivoltaic system, I connected with FOREnergy and Titan Solar for the installation of the solar array. In June, we had the site surveyed and are in the process of submitting permits to the City of Phoenix. The anticipated cost of this project is $20,000, and I am working on getting donations to be able to finance this project through community events, presentations, grants, and my website.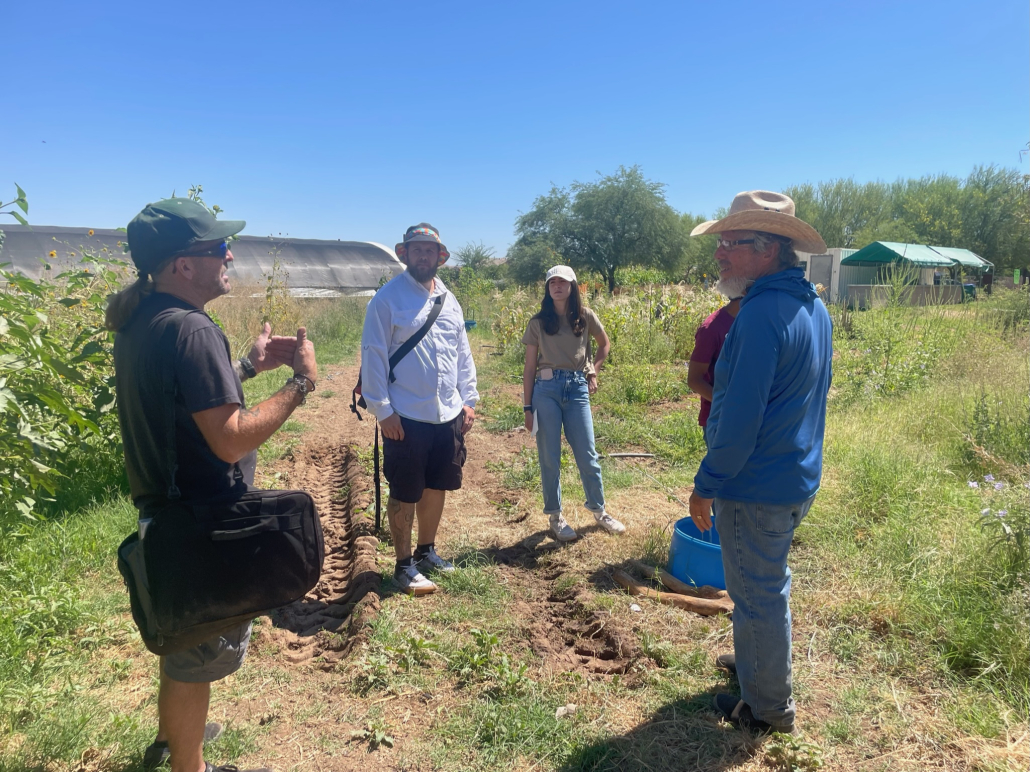 Site survey with members of Spaces of Opportunity, Titan Solar, and Sarah Bendok to map out the system. Photo: Growing Green
Separately, I was able to build a smaller agrivoltaics system over a raised garden bed at Spaces of Opportunity with donations from different local organizations to educate the community on the benefits of agrivoltaics while doing small-scale research. I have planted two types of cherry tomatoes and chiltepin peppers in this bed, but I plan to test crops native to Arizona in this location later on. I am also in the process of building another agrivoltaics raised garden bed at Garden of Tomorrow. There, I hope to plant a variety of crops that have not yet been tested with agrivoltaics to be able to continue to learn about which crops benefit from this technology. Although these beds are small-scale, I have started collecting data and educating the community on agrivoltaics by involving adult volunteers from the Desert Botanical Garden and employees from Tiger Mountain Foundation. I have connected with teachers from a low-income school near Spaces of Opportunity to engage students on these projects to help them learn more about sustainability within farming and renewable energy.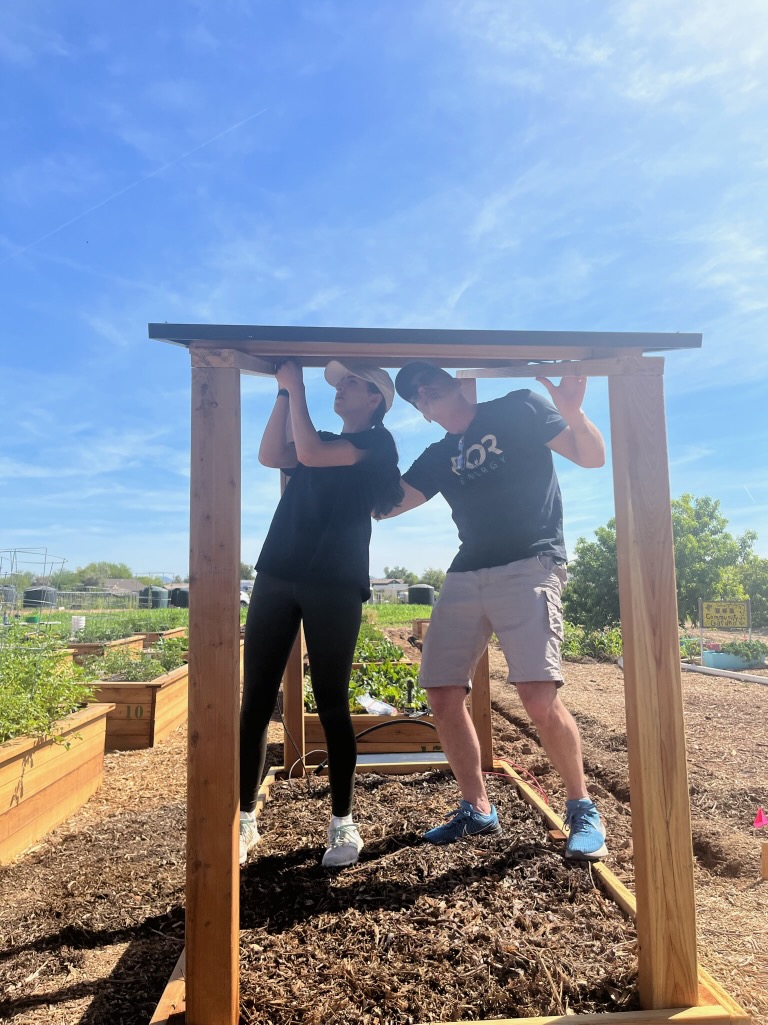 Dan Mullaney from FOREnergy and Sarah Bendok installing the garden bed solar panel at Spaces of Opportunity. Photo: Growing Green
Without the guidance and support of Stacie Peterson and Anna Adair from AgriSolar Clearinghouse, I would not have been able to come this far with my projects. I am very grateful for the opportunities and connections they have provided me with and hope to continue to promote agrivoltaics alongside them.
If you would like to support, partner with, or collaborate on this initiative, please email me at contactus@growing-green.org or visit our website.
https://www.agrisolarclearinghouse.org/wp-content/uploads/2023/07/IMG_0306.jpeg
1025
768
Anna Adair
https://www.agrisolarclearinghouse.org/wp-content/uploads/2022/02/AgriSolar_stacked_1-338x400.png
Anna Adair
2023-07-26 08:48:10
2023-07-26 09:21:40
Growing Green Brings Agrivoltaics to Community Gardens in Arizona