The Monadnock Region Community Supported Solar project in New Hampshire is bringing together farmers, investors, and champions with a goal of helping local farms realize the potential of the renewable energy economy.
Community-supported refers to a synergistic relationship between a business and consumers. Whether it be community-supported agriculture, community-supported fishery, or community-supported solar, this business model allows consumers to have access to a good or service closer to their community, usually one that is healthier and more affordable. This model also allows the local business to have greater security in its operation and be able to spread out fixed costs, usually in the form of "shares" from the consumer.
Here's how it works. Farmers in the Monadnock region can purchase an electricity share and become a member of the Farmer Member's Group. Participating farms enter into an operating agreement with Community Supported Solar for Farms LLC. During the LLC phase, farmers contribute by paying for a portion of the solar array installation, and they continue to use their local utilities as usual. Upfront costs are also funded by investors, making the share payments cheaper for the farmers. Community Supported Solar for Farms LLC will work with Cheshire County Conservation District (CCCD), which serves as manager of the LLC, and investors to take ownership of the array in six years through a buyout.
After the buyout occurs, the farmers group will own the system and each share will be net metered, providing free energy to those that have a share. Net metering takes unused power from the array and sends it back to the grid for later use or for others to use. This project utilizes group net-metering, which allows multiple electric meters at different locations to be bound to one solar array. Members of group net-metering benefit from solar energy without needing a solar array on their property. Each share is equivalent to 5,000 kWh of energy. The 90-kilowatt array has been built on host-member Sun Moon Farm in Rindge, New Hampshire, which also grows and sells produce within a community-supported agriculture model.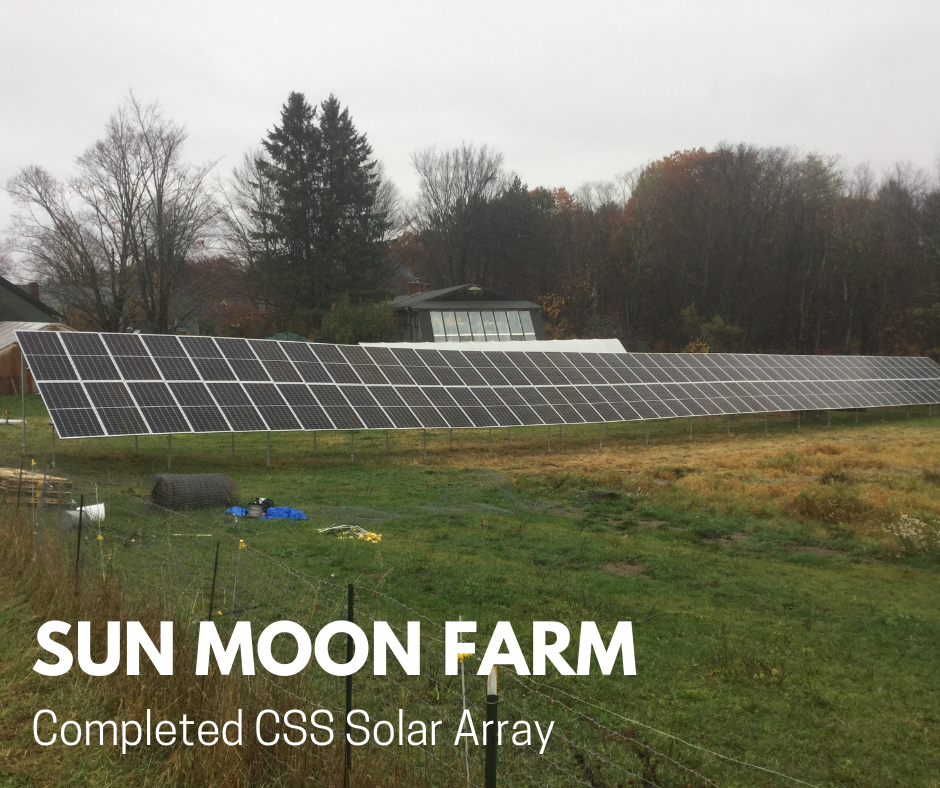 The project will realize a host of benefits. Farmers who purchase a share support renewable energy and will benefit from stable, low-cost energy, and the project's investors benefit from earning tax credits, renewable energy certificates (REC) funds, a state rebate, and extra income on electricity sales to farmers.
CCCD and the Monadnock Sustainability Hub serve as community champions for the project. The CCCD has secured a grant through the New Hampshire Charitable Foundation that will be used, in part, for system buyout in Year 6. CCCD will host a crowdfunding initiative in February 2022 to raise additional funds to lower share costs even more for farmers.
Learn more about the Monadnock Region's efforts at https://cheshireconservation.org/solar as well as their crowdfunding initiative at https://monadnock.thelocalcrowd.coop/campaign/community-supported-solar-for-farms/.
https://www.agrisolarclearinghouse.org/wp-content/uploads/2016/05/policy-image-1.jpg
351
636
Victorian Tilley
https://www.agrisolarclearinghouse.org/wp-content/uploads/2022/02/AgriSolar_stacked_1-338x400.png
Victorian Tilley
2022-01-20 09:34:04
2022-01-25 13:40:18
Monadnock Region Community Supported Solar Case Study