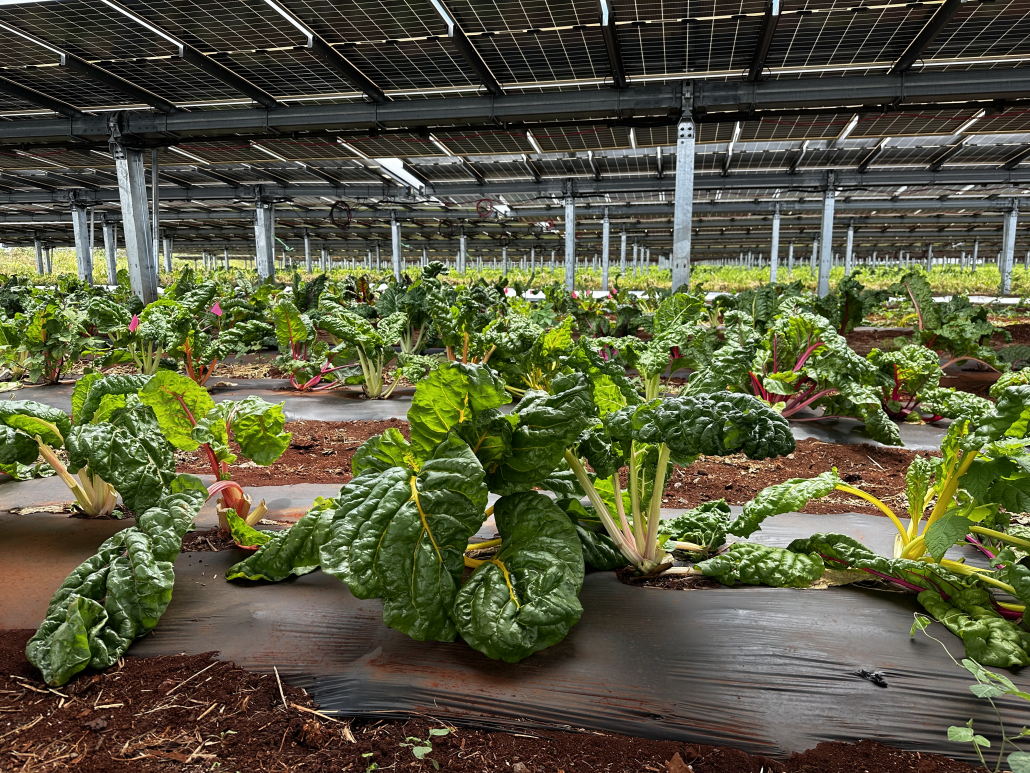 Crops growing under solar panels at the Hawai'i Agriculture Research Center.
By Anna Adair, NCAT Energy Program Assistant
In Mililani, Hawai'i, a one-acre agrivoltaic research and development site run by the Hawai'i Agriculture Research Center (HARC) is working to grow fruits and vegetables for their community, while also discovering which crops grow best locally in an agrivoltaic setting. This agrisolar project is just one of many ways HARC has been working to foster and improve agribusiness in Hawai'i for over 125 years. The overarching goal of the project is to determine how to develop novel agricultural production systems for replication at commercial scale, while simultaneously increasing the productivity and profitability of agrivoltaic sites in Hawai'i.
Nestled within a larger 230-acre solar system consisting of bifacial auto-tracking panels, the site is a collaboration between HARC, Longroad Energy, AES Corporation, and Clearway Energy Group, which owns the array. HARC researchers believe that agrivoltaic projects require research and development in the local environment to determine optimal infrastructure design, crop selection, and agronomic practices. With this in mind, agricultural construction and environmental monitoring began on-site in 2021.
By June 2022, preparation for the first planting of crops underneath the panels began. Researchers treated the area for weeds, disked compost into the soil, and installed four lines of dripline irrigation in each raised bed. A total of eight 180-foot beds were constructed, containing 14 different crops for initial trialing: radish, daikon, melons, kabocha squash, broccoli, cauliflower, bush beans, eggplant, poha berries, bunching onion, lavender, strawberries, sweet potato, and dryland taro. While most of the plants were successfully cultivated, researchers considered the 2022 growing season to be a screening process that allowed them to choose which crops they will plant on a larger scale in the coming years.
In addition to the in-ground plantings, hydroponic lettuce trials were also conducted in four commercial-scale troughs between the rows of solar panels. Five lettuce varieties were chosen based on what is most popular in commercial markets in Hawai'i . By December 2022, eight cycles had been harvested and yield data collected for detailed analysis as part of an ongoing graduate school thesis project at the University of Hawai'i .
Agrivoltaic projects like this have the potential to help meet both energy and food production needs for the state, while simultaneously optimizing land resources. HARC has successfully demonstrated that agricultural activities can be conducted on solar sites with minimal impact to existing operations and will hopefully expand their research beyond a single acre plot in the coming years.
Photo courtesy of Hawai'i Agriculture Research Center.
https://www.agrisolarclearinghouse.org/wp-content/uploads/vfb/2023/08/IMG_3756-scaled.jpeg
1920
2560
Anna Adair
https://www.agrisolarclearinghouse.org/wp-content/uploads/2022/02/AgriSolar_stacked_1-338x400.png
Anna Adair
2023-10-09 18:41:40
2023-10-09 18:41:42
Case Study: Hawai'i Agriculture Research Center