Pollinator Week is an annual celebration in support of pollinator health, initiated and managed by Pollinator Partnership (P2). It is a time to raise awareness for pollinators and spread the word about what we can do to protect them. The great thing about Pollinator Week is that you can celebrate and get involved in multiple ways. Popular events include planting for pollinators, registering for the EPRI – P2 Pollinator Power Party, and so much more. However you choose to celebrate this year, be sure to register your event here , and share your story with us by tagging us on social media using the hashtag #PollinatorWeek.
As the largest organization in the world dedicated exclusively to pollinator issues, P2 provides the highest level of scientific advising and consultation services to support industry, organizations, and agencies plan, execute, and manage pollinator-related projects including solar-habitat co-location. For more information, please visit P2's Consulting Services page.
Planting for Pollinators: A recipe for success
Pollinators are responsible for one out of three bites of food we consume. They are also the glue that holds the natural world together. Pollinators need your help! By creating pollinator-friendly gardens, you will be providing the vital habitat resources they depend on. Not to mention that pollinator gardens will bring beautiful color displays for you (and your neighbors) to enjoy throughout the seasons!
Planning your garden with pollinators in mind is easy with the new Native Pollinator Garden Recipe Cards. These cards are your gateway to native wildflower gardening — they provide step-by-step guidelines for creating your own pollinator gardens, including recommendations for regionally appropriate native plant species, design, and planting tips. With easy-to-follow steps and resources for support, you will be on your way to butterfly bliss in no time.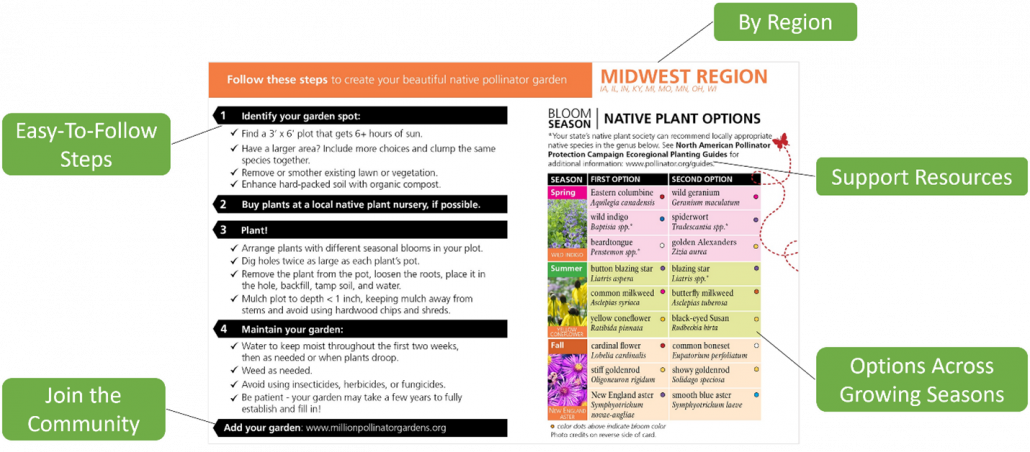 Find your region's card and get started today to support our pollinators and give them a place to call home. Native garden cards are available for most U.S. regions, including the Northeast, Northwest, Intermountain West, Great Plains, Midwest, Southwest, Southeast, Alaska, and Texas regions, with California to come. Look for the recommended plant species wherever native plants are sold, such as your local native plant nursery.
These cards were developed through a collaborative effort as part of the North American Pollinator Protection Campaign (NAPPC) Pollinator Habitat Installations Task Force. Download your free Native Pollinator Garden Recipe Card and help support pollinators with us.
Happy pollinator planting!
https://www.agrisolarclearinghouse.org/wp-content/uploads/2022/04/30644851617_83abc2a907_k.jpg
1365
2048
Danielle Miska
https://www.agrisolarclearinghouse.org/wp-content/uploads/2022/02/AgriSolar_stacked_1-338x400.png
Danielle Miska
2022-06-20 11:17:57
2022-06-20 13:21:23
Pollinator Week: Wings of Life! June 20-26, 2022