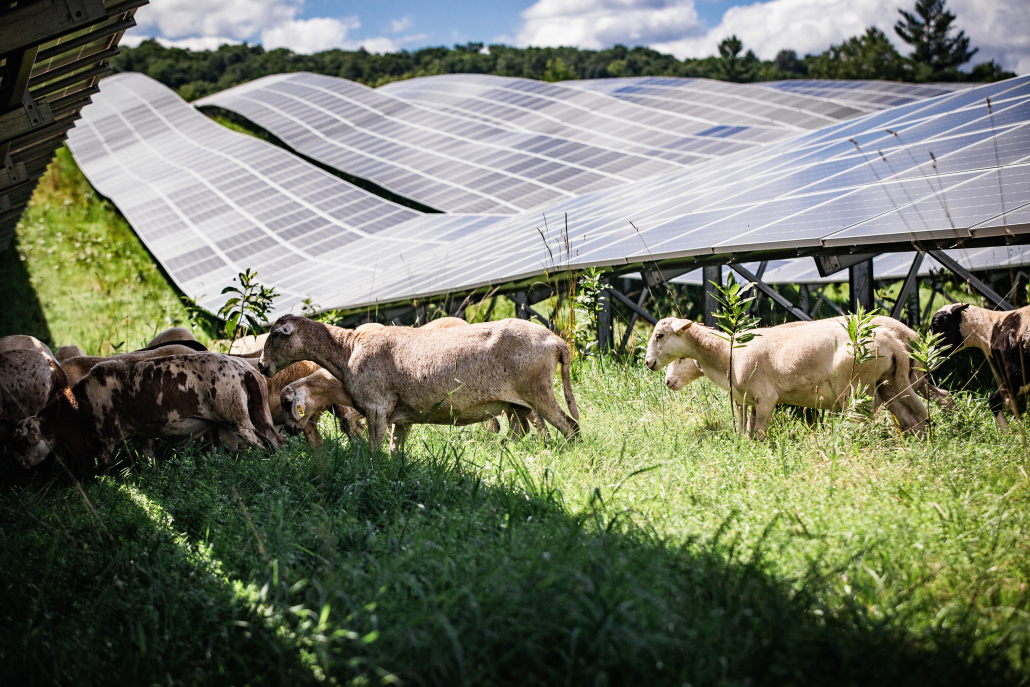 Sheep grazing at Brookfield agrisolar site. Photo: AgriSolar Clearinghouse 
By Alyssa Andrew and Greg Plotkin 
As solar development around the nation continues to accelerate, opportunities for farmers to graze livestock on solar sites also continue to grow. This is often considered a win-win scenario as it allows for land to continue in active agriculture while decreasing the need for mowing at solar sites, keeping costs and emissions low.
In order to capture the most accurate and comprehensive picture of solar grazing in America to date, the American Solar Grazing Association (ASGA) is conducting the first U.S. solar grazing census supported by the National Renewable Energy Laboratory between September 15 and December 31, 2023. The overall goal of this study is to assess standardized metrics that can be used to evaluate solar sheep grazing and to further identify best practices for these systems. Furthermore, this census will provide an updated picture of the scale and reach of solar grazing in the U.S.
ASGA is hoping to hear from as many solar graziers, as well as businesses or organizations that represent them, as possible and is grateful for those that can spend a few minutes to complete the survey. We also greatly appreciate you inviting other solar graziers to participate. All identities will be kept confidential.
We are extremely thankful for you taking the time to help accomplish our research goals and recognize the value of your time. Every survey respondent will receive $10 off the cost of ASGA membership. In addition, all survey respondents will be entered into a drawing to receive a $100 Amazon gift card and special gifts from ASGA as a token of our appreciation.
Thank you again for your participation. We look forward to sharing our results with the solar grazing community in 2024. If you have any questions, please reach out to Alyssa Andrew, ASGA Project Coordinator, at alyssa@solargrazing.org
https://www.agrisolarclearinghouse.org/wp-content/uploads/2023/07/FollowTheSun-9542-scaled.jpg
1707
2560
Anna Adair
https://www.agrisolarclearinghouse.org/wp-content/uploads/2022/02/AgriSolar_stacked_1-338x400.png
Anna Adair
2023-10-04 09:13:15
2023-10-04 09:13:16
Responses Requested for First-Ever National Solar Grazing Census