By Rob Davis, Connexus Energy
Seven years after designing our first solar array, more than 20 million deep-rooted and pollinator-friendly plants across more than 150 acres are helping us control costs while maximizing local benefits for our community, resulting in national recognition and hometown goodwill — but it almost didn't happen. Now, our standard practice is to require pollinator-friendly ground cover across all of the large-scale solar arrays that feed into our grid.
Connexus Energy is Minnesota's largest electric cooperative and one of the 15 largest retail electric cooperatives nationwide, serving more than 320,000 people (141,000 meters) in parts of eight Minnesota counties. By embracing innovations including grid-scale battery storage, more than $25 million of local solar generation, customer-centric demand response programs, and automated metering infrastructure, Connexus has kept retail rates to our members flat for five consecutive years, while progressing with greening the grid.
Our first solar array—built in 2014 immediately adjacent to our headquarters—was initially designed with gravel, but a change set us on a different course. Working with one of our co-op members, Prairie Restorations of Princeton, Minnesota, a low-growing meadow seed mix was designed and implemented. Making productive use of the land under and around a ground-mounted solar array fits with one of the seven cooperative principles — Concern for Community. After a year or two of growing in, the site's beneficial plants were crowding out weed species, reducing mowing costs, and making a positive impression with the community.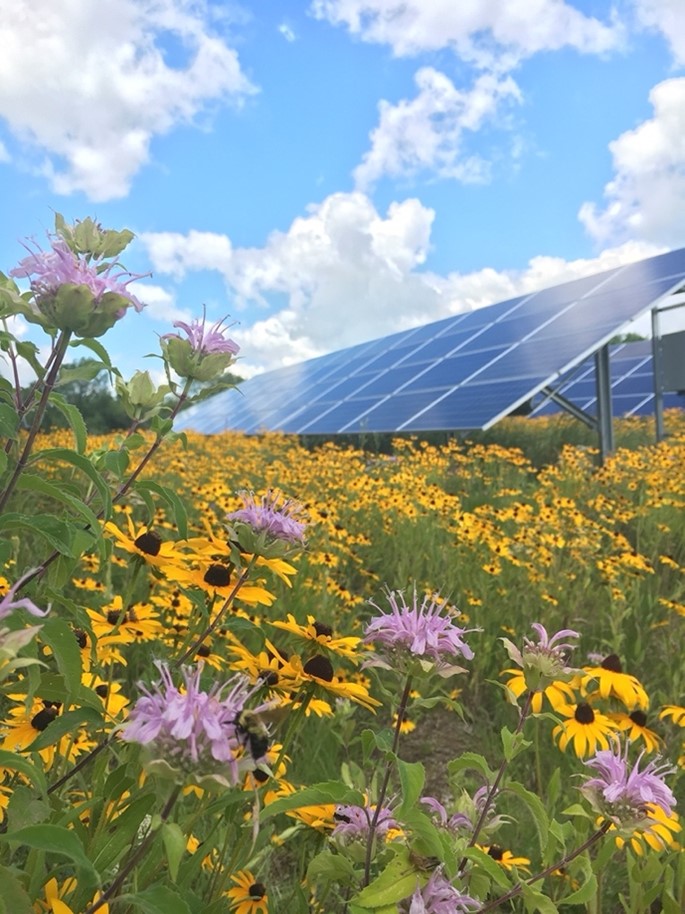 Having now partnered in the development of four additional grid-scale solar projects—two of which include 15 MW of battery storage—Connexus' decision to proactively ask for productive use of the land under and around the panels is continuing to pay dividends:
Last fall one of Minnesota's award-winning filmmakers teamed up with Prairie Restorations on a short documentary, Pollinators, Prairie, and Power, which included Connexus Energy CEO Greg Ridderbusch. Click HERE to watch it.
The Associated Press recognized Connexus Energy's leadership in solar land-use practices in a major news story that generated more than 150 million media impressions nationwide. Connexus was the only electric utility included in the expansive story that also included interviews with scientists from the National Renewable Energy Laboratory. The story, "Bees, Sheep, Crops: Solar Developers Tout Multiple Benefits," appeared in more than 240 media outlets in 41 states and territories.
Earlier this year, the U.S. Department of Energy Secretary Granholm highlighted Connexus Energy, sharing an extraordinary Minnesota Public Radio story about co-op innovation and use of local solar to keep rates flat.
Research on one of Connexus' solar projects by NREL, the University of Minnesota, and nonprofit partners is quantifying substantial stormwater benefits of deep-rooted ground cover. The PV-SMaRT project is monitoring and collecting water-quality data from five U.S. solar sites with different land and climate conditions. "The end goal is to develop research-driven tools and best practices that can be used by permitting authorities and PV developers to make more informed decisions on stormwater management measures that are tailored to the true impacts of a PV array on the environment," says Jennifer Daw, principal investigator for the PV-SMaRT project and Group Manager for Strategy, Policy & Implementation at NREL.
https://www.agrisolarclearinghouse.org/wp-content/uploads/2022/03/Connexus-Energy-HQ-Array-2014-By-Rob-Davis.jpg
914
685
Danielle Miska
https://www.agrisolarclearinghouse.org/wp-content/uploads/2022/02/AgriSolar_stacked_1-338x400.png
Danielle Miska
2022-03-07 14:00:21
2022-03-07 14:00:23
Solar PV and the Importance of Asking for High-Performance Ground Cover