Written for the AgriSolar Clearinghouse by Ridge to Reefs staff Emma Verlinden, Paul Sturm, and Phal Mantha
In 2017, the devastation following Hurricane Maria was catastrophic for countless coastal communities. The archipelago of Puerto Rico experienced mass power loss and severe food-supply shortages, leaving many rural communities without power for extended periods of time (in some cases for as long as 6 to 12 months). Agricultural lands became unusable, with crop fields devastated by high winds, extreme rainfall, and incessant flooding. Following the catastrophe, the only seed producer in the archipelago lost nearly their entire supply due to a lack of refrigeration caused by the extended power outage. Meanwhile, shelves were empty at stores due to nearly 90% of Puerto Rico's food being imported and food spoiling during the power outage.
In response to this challenge, Ridge to Reefs designed a Mobile Solar Walk-In Refrigeration System to help farms reduce post-harvest losses and bring high-quality produce and refrigerated farm goods to market. Additionally, Ridge to Reefs led and assisted in the construction of numerous stationary iterations of this design at various locations throughout Puerto Rico. The mobile system design is constructed around a 6'x14' single-axle enclosed trailer, with six (280-watt) photovoltaic panels mounted on the rooftop. CoolBot technology is paired with a 10,000 BTU window air-conditioning unit, 2,000-watt Pure Sine Wave inverter, 210 amp-hours of batteries, and a charge controller to maintain temperatures between 40and 55°F per the farmers' needs. The panels atop the trailer provide 1.68kW of power with ample battery storage, reducing the risk of crop loss in the event of a major power outage. The trailer is fully insulated (to above R-20) throughout the walls, roof, and floor, allowing for heat resistance in even tropical climates. In all, approximately 275 cubic feet of storage is available inside the unit to allow farmers to efficiently store and transport their agricultural goods. Because the power systems are grid-tied in Puerto Rico, and with such high risk of natural disaster occurrences, Ridge to Reefs designed this highly agile system to be grid-independent, using commercial, off-the-shelf technologies as dictated by community need.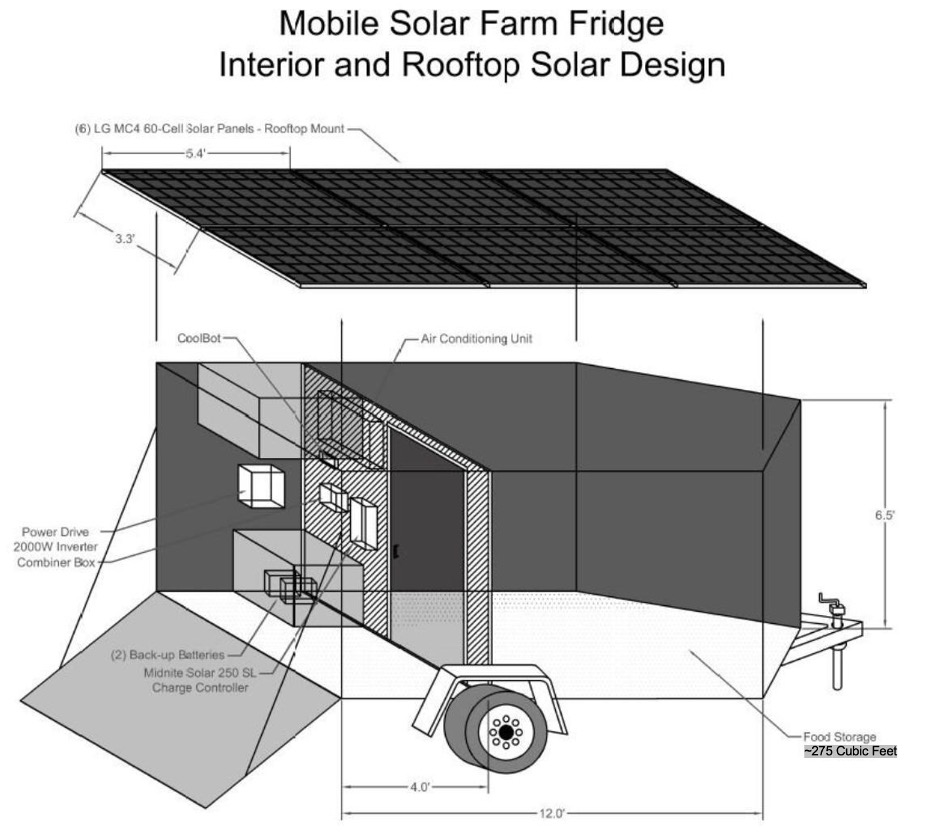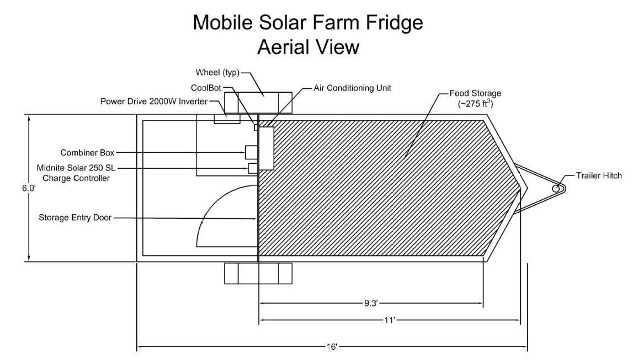 The construction and deployment of a mobile refrigeration system presents a viable solution for producers to more efficiently transport and store their goods throughout tropical regions, especially those that are susceptible to natural disasters. The entire system was constructed for approximately $10,000 USD, but potential grant and funding opportunities for farmers seeking to transition to solar operations could allow technology of this sort to become more available. Additionally, this option may allow island communities to cultivate greater market portions of locally sourced foods by increasing the sales reach of small-scale agricultural operations. Many producers do not have access to refrigerated shipping methods, and having on-site cold storage and transport for their goods can prove very economically stimulating.
Costs of electricity in island regions such as Puerto Rico and Hawai'i are on average four times higher than in mainland communities, which can prove detrimental to the capabilities of local farms in these regions. By providing farmers with the capacity to store and distribute their produce independently, they are able to reinvest the saved costs and increased profits into their own operations and increase overall productivity. In this way, the solar-powered refrigeration systems also promote local circular economies.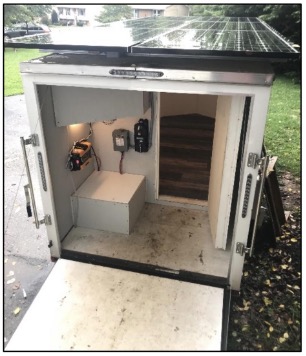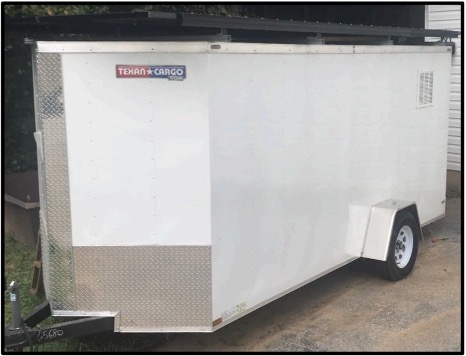 Completed construction of the mobile solar-powered refrigeration prototype that was donated by Ridge to Reefs.
The deployment of the mobile solar cold-storage system also taught our team and partners numerous valuable lessons. First, in mountainous regions, maneuvering a towed trailer system can be less than ideal and a task not every driver is comfortable with. It may be worth exploring integrating this sort of system into a "Sprinter" van or similar large van. Furthermore, the utilization of lithium iron phosphate or even lithium ion battery banks may offer significant advantages and may prove to be feasible improvements. With our system, an increase in battery bank capacity would have significantly improved standalone time and a battery bank capacity of closer to 300 or 350 amp-hours would have provided three to four days of standalone time. Additionally, with improvements in solar panel technology, many higher-output panels are available with the same dimensions. For example, 330-watt panels could be used for the next generation, allowing for higher power output. The Ridge to Reefs Team plans on first upgrading the existing mobile trailer with these improvements and is also seeking opportunities to construct and deploy similar systems in the future.
The implications of solar integration into agricultural operations are vastly important, especially considering the global call for an increase in the utilization of renewable energy sources. While this system is a small-scale mobile refrigeration unit, Ridge to Reefs has also constructed numerous other stationary solar refrigeration systems throughout Puerto Rico to ensure the security of crops for farmers during times of distress. Systems such as these could create opportunities for producers in other tropical regions such as Hawai'i by allowing them to reduce crop wastage, reach new markets, recirculate money in their community, and address concerns related to sustainability, food security, and developing local economies.
Photos courtesy of Ridge to Reefs
https://www.agrisolarclearinghouse.org/wp-content/uploads/2023/06/Walk-in-Cooler-Inside-View.jpg
356
306
Anna Adair
https://www.agrisolarclearinghouse.org/wp-content/uploads/2022/02/AgriSolar_stacked_1-338x400.png
Anna Adair
2023-06-28 08:00:00
2023-07-26 09:22:07
Reducing Post-Harvest Losses Through the Use of Innovative Solar-Powered Refrigeration Systems