Case Study: Indart Solar Sheep Grazing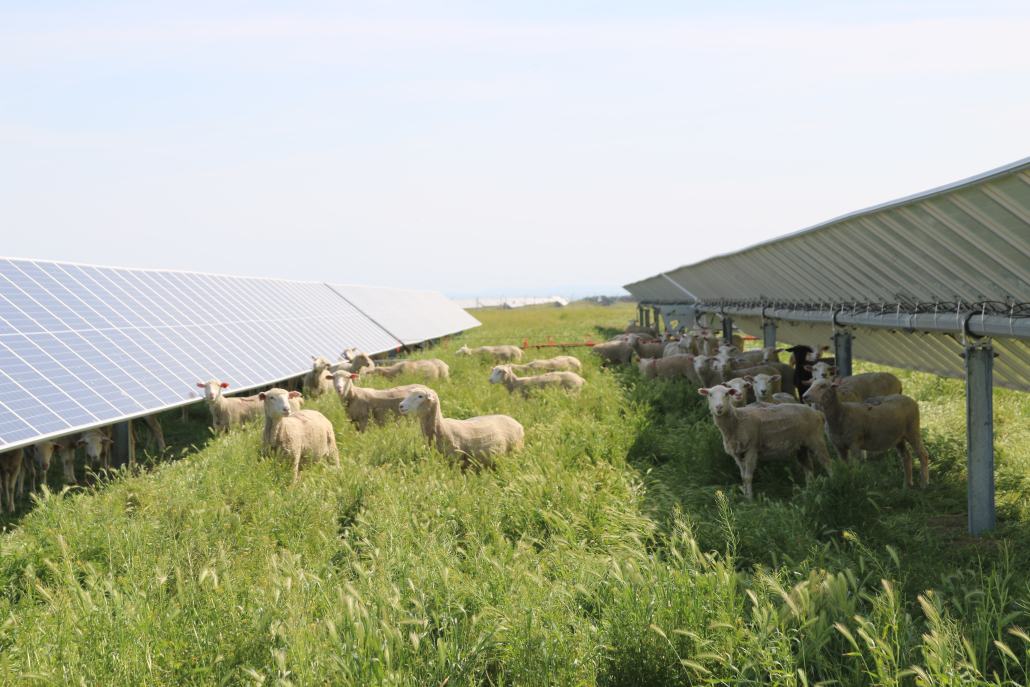 Indart sheep between rows of solar panels.
By Anna Adair, NCAT Energy Program Assistant
As the average age of the American farmer continues to rise, the question of how to transition an agricultural operation to the next generation is a concern for current farmers. Can agrisolar offer a solution to help keep multi-generational farms and ranching operations profitable and in family hands? For Ryan Indart and his family in Clovis, California, solar grazing has given them the opportunity to not only keep their sheep operation up and running, but also to expand the business to include multiple partners and grazing sites across state lines.
The Indarts have been ranching and farming in California for generations. Ryan's grandfather first introduced the family to ranching when he purchased 1,000 sheep in 1937, later selling the wool to the U.S. government to clothe American soldiers in World War II. His parents bought the operation in 1970 and ran the business for nearly 40 years before it was his turn to carry on the family legacy. However, his parents didn't simply hand over the operation, and Ryan worked tirelessly to reach his goal of taking over the business.
Although he had moved away from his family land after college, Ryan always loved the sheep and wanted to return to raising them eventually. He knew he needed to earn enough money to either purchase his family's operation or start one of his own. After earning his MBA from Notre Dame in 2002, he worked in commercial real estate for several years before he and his wife Beatriz moved back to Frenso County and purchased all aspects of the family business, from equipment to the sheep themselves.
The early years were far from stress-free, however. Like many farming families in America today, the Indarts struggled to turn a profit year after year. In addition to raising sheep for wool and lamb, they did tractor work and dry farmed a variety of crops, but none of their hard work reliably produced a consistent profit. Rising wages and the increased cost of living in California led them to seriously consider moving out of the area Ryan's family has called home for generations. Thankfully, a single phone call set the family on a new course and opened the door for the creation of Indart Solar Sheep Grazing.
In 2018, Ryan received a call from a solar developer with a 1,600-acre solar facility in western Fresno County. Large solar systems were just beginning to pepper the Central California landscape, and the developer was looking for a local sheep grazier to help manage vegetation at the site. They reached out to the California Wool Growers Association, where Ryan was serving as President, and were directed to the Indarts' operation. When the developer offered to compensate the family for their grazing services, Ryan thought "This could be a gamechanger." He signed his first solar grazing contract just a few short months later and spent the rest of 2018 and 2019 expanding Indart Solar Sheep Grazing.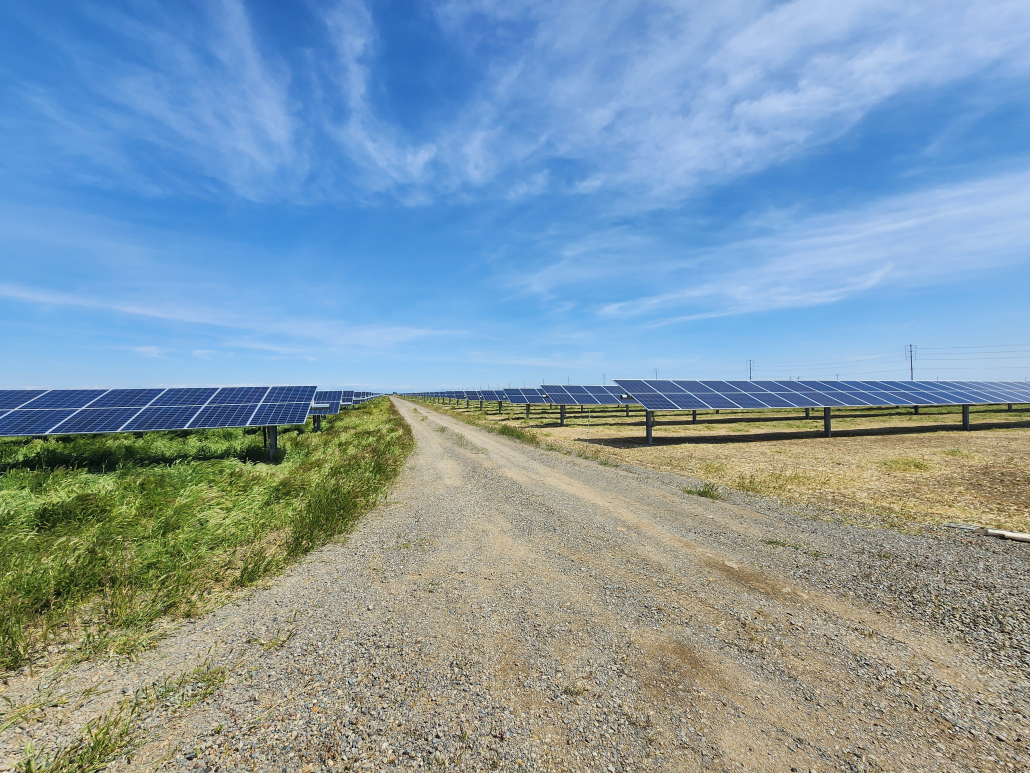 Comparison of land grazed (right) versus not grazed by Indart sheep at the Slate Solar Facility in Kings County, California.
Today, Indart Solar Sheep Grazing includes multiple grazing partners that share the Indarts' high degree of professionalism, and Ryan takes a lot of pride in setting a value standard for the solar grazing industry. "We run an organized business. Whenever there's a problem we're always there to help solve it," he says. Including partnerships, Indart Solar Sheep Grazing has over 10,000 sheep grazing over 15,000 acres from northern California to Arizona.
Ryan is a wealth of knowledge but has one particular piece of advice for established farmers considering venturing into solar grazing: get comfortable with being uncomfortable. After his first contract in 2018, he regularly cold called solar companies whose facilities he saw in the area, offering them his services as an experienced grazier. "You've got to be willing to challenge your fears. Try something new. Make a phone call," he says. "The worst thing that can happen is they say no." He emphasizes that farmers must be willing to try new things and adapt to the current state of agriculture in the United States. "That's what's made us successful."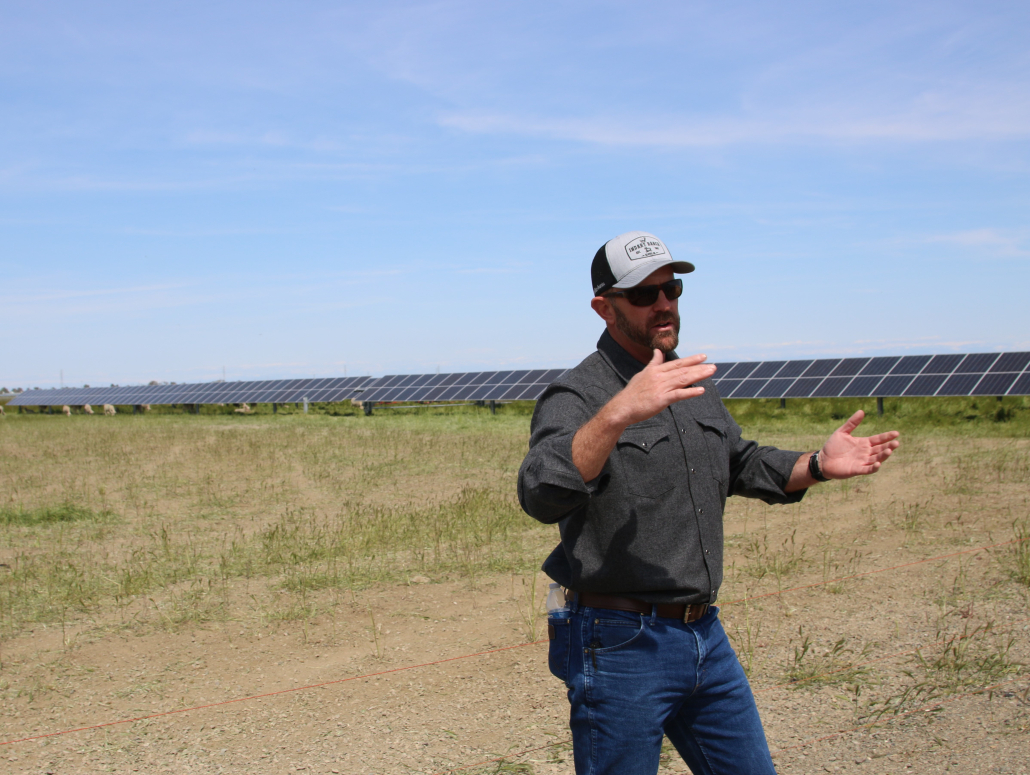 Ryan Indart discussing solar grazing during the Central California Follow the Sun Tour with the AgriSolar Clearinghouse.
For new farmers trying to break into the agricultural industry, Ryan believes the barriers of entry to solar grazing are fewer than those encountered in traditional farming scenarios. Land access is a common hurdle for first generation farmers, but solar grazing provides immediate access to acres of land, often with quality forage for grazing animals. Contracts with site owners also mean farmers are making money throughout the year, rather than just during lambing season. "You have instant access to revenue," Ryan says.
Looking to the future, the Indarts plan to continue expanding their business. With just over 3,500 sheep in their personal flock, the family's goal is to reach about 5,000 animals total. Ryan says they may be more strategic about what clients they take on as well, and subcontract with other sheep graziers who share their business values as they reach the limit of where they can graze themselves. "It's a huge blessing to be able to stay in business in California," Ryan says. "But I couldn't do this without a support system."
When speaking about his company's success, Ryan credits his family and team members that have been with him for years. Many of the team members are originally from Peru, and employment with the Indarts' business has provided them with the opportunity to send their children to school or buy a home for their family. "I'm very grateful I can provide jobs for these guys, and help them better their lives," Ryan says. "That's what makes me happy."
Finally, Ryan states that it's wonderful to be a part of the renewable energy movement but emphasizes that "We've been doing this for generations." With proper grazing techniques, graziers have helped improve plant diversity and soil health for years before solar grazing entered the scene. Ryan says he's proud to continue what his grandfather started, and thankful for the chance to create jobs and opportunities for his employees that have become a part of his family.
All photos by NCAT.
https://www.agrisolarclearinghouse.org/wp-content/uploads/2023/05/52830769785_46c5fc49f1_o-scaled.jpg
1660
2560
Anna Adair
https://www.agrisolarclearinghouse.org/wp-content/uploads/2022/02/AgriSolar_stacked_1-338x400.png
Anna Adair
2023-05-29 09:13:02
2023-09-12 09:18:21
Case Study: Indart Solar Sheep Grazing