Case Study: Mustang Two Solar Facility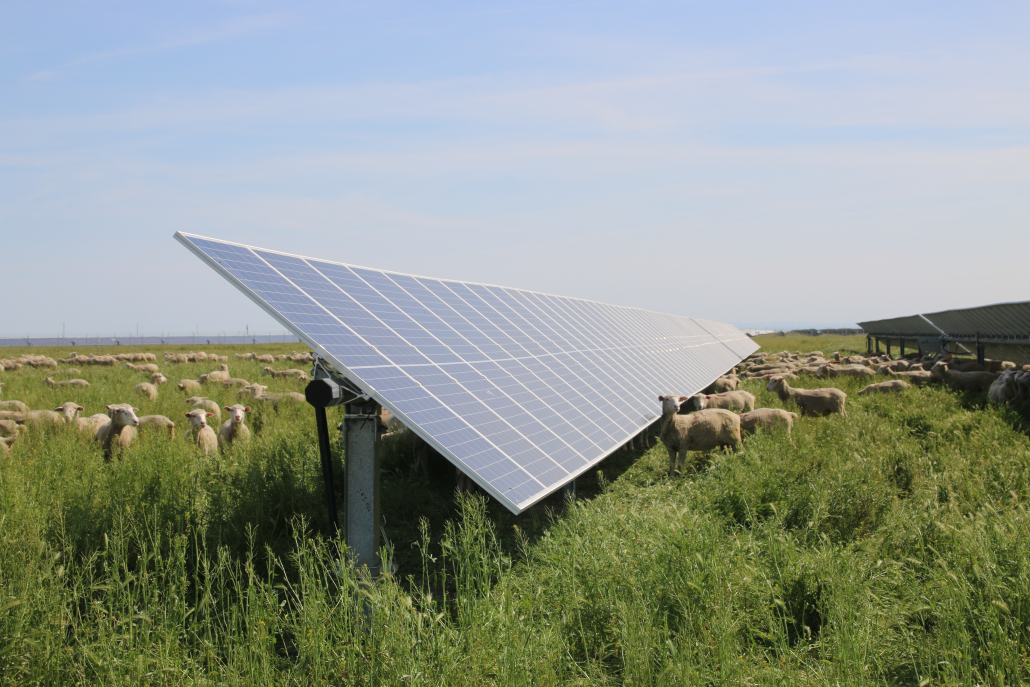 Indart sheep between rows of solar panels.
By Anna Adair, NCAT Energy Program Assistant
Just outside of Stratford, California, hundreds of sheep spend their days grazing between rows of solar panels at the Mustang Two solar park. The site, owned by Idemitsu Renewables, sits on 1,160 acres and produces enough clean energy to power over 50,000 homes. The 150-megawatt facility was constructed in 2020, with the sheep taking up residence shortly after. Courtesy of Indart Solar Sheep Grazing, the herd helps maintain the vegetation growing around the solar panels while also working to improve the biodiversity of the plants on site.
Indart Solar Sheep Grazing owner Ryan Indart had grazed several sites prior to adding Mustang Two to the list, building positive relationships within the solar community along the way. When a friend at SOLV Energy, the operators of the site, informed him that the conditional use permit required grazing, Ryan jumped at the opportunity. Mustang Two was the first site Ryan had to compete for, but he successfully won the bid to be the grazier on site. In 2021, he unloaded his sheep onto what was, at the time, the largest site in his portfolio.
Two years later, the Indart sheep continue to do their part in maintaining a safe, well-managed solar site. Despite not being the easiest location to graze, Ryan and his sheep have received great feedback from both SOLV and Idemitsu. The facility has a dense foxtail barley population, and the sheep can be selective about when they choose to eat the plant. Although the foxtail may not be ideal, grazing has many environmental benefits when done under the watchful eye of a knowledgeable rancher. Over time, Ryan's sheep will help diversify the plant life and improve the soil quality at Mustang Two, as well.
Photo by NCAT
https://www.agrisolarclearinghouse.org/wp-content/uploads/2023/05/52830368441_f8d6b62ec2_o-scaled.jpg
1707
2560
Anna Adair
https://www.agrisolarclearinghouse.org/wp-content/uploads/2022/02/AgriSolar_stacked_1-338x400.png
Anna Adair
2023-06-12 15:28:25
2023-09-12 09:17:42
Case Study: Mustang Two Solar Facility