Case Study: Slate Solar PV Park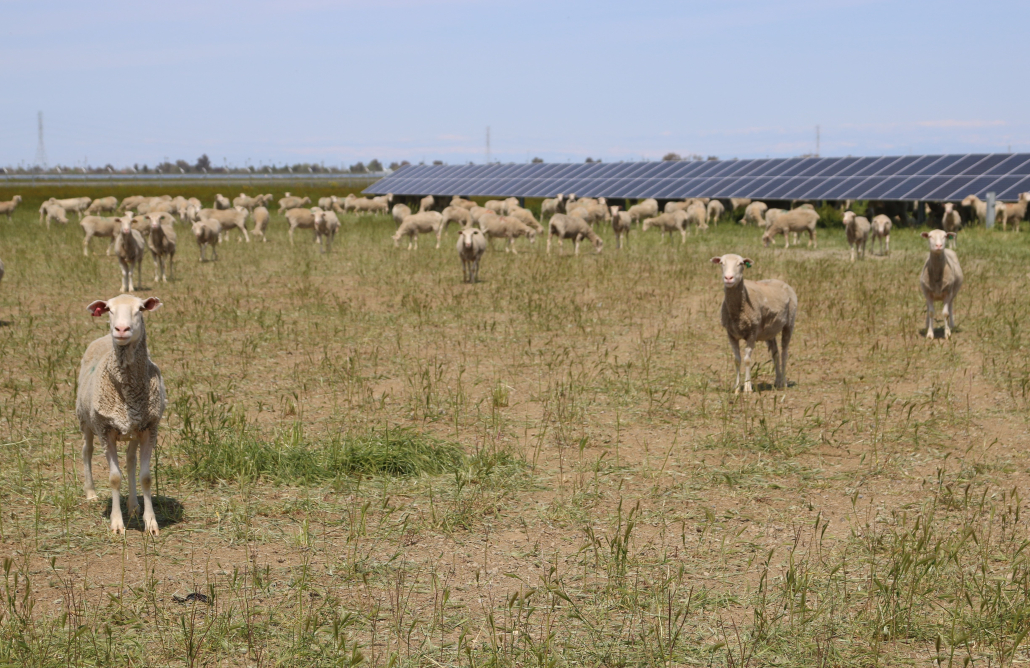 Indart sheep grazing around solar panels.
By Anna Adair, NCAT Energy Program Assistant
Located in Kings County, the Slate Solar PV Park produces power for hundreds of thousands of California citizens, while simultaneously providing food and shade for its resident sheep herd. The 390-megawatt site, owned by MN8 Solar and operated by Canadian Solar, rests on 2,120 acres and consists of almost 951,000 bifacial solar panels. Rather than relying solely on mowing, the operators count on Ryan Indart and his company Indart Solar Sheep Grazing to provide anywhere from 1,150 to 2,000 sheep to keep most of the site's vegetation under control.
Ryan credits his solid relationships with his clients for the opportunity to graze at the site. The Slate facility is adjacent to another PV park, known as Mustang 2, where Ryan's sheep were already grazing during Slate's construction phase. He reached out to his contacts at Mustang 2 to see if anyone had connections at Canadian Solar and was given the number of the asset manager for Slate. One phone call and a positive reputation amongst the solar operators in his area later, Ryan signed a three-year contract to graze his sheep as part of Slate's vegetation management plan.
Today, Ryan says he believes both Canadian Solar and MN8 Solar are happy with the partnership. Grazing animals can help lower the operations and management costs at a solar site, which is a high priority for the businesses involved. Although Slate does mow some sections of the facility as needed, the Indart sheep significantly reduce the area that needs mowing, all while finding respite from the hot California sun underneath the panels.
Photo by NCAT
https://www.agrisolarclearinghouse.org/wp-content/uploads/2023/05/52830815498_0e901e536c_o-1-1-scaled.jpg
1707
2560
Anna Adair
https://www.agrisolarclearinghouse.org/wp-content/uploads/2022/02/AgriSolar_stacked_1-338x400.png
Anna Adair
2023-06-07 09:44:14
2023-09-12 09:18:03
Case Study: Slate Solar PV Park