Elevated Solar Trackers Offer a Compatible and High-efficiency Agrisolar Solution for Farmers and Ranchers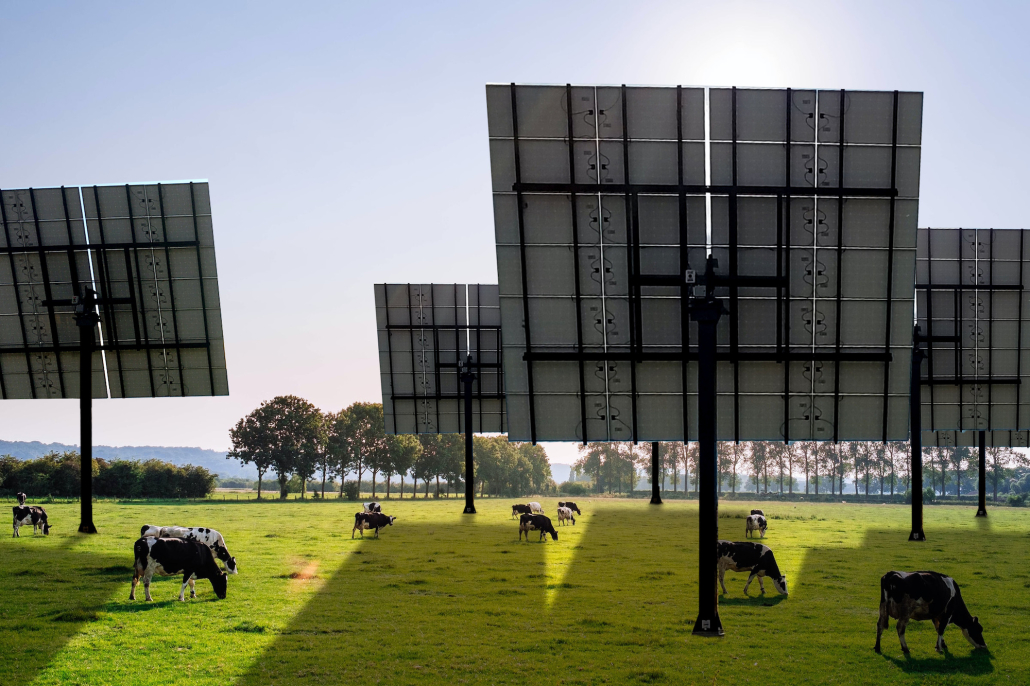 By Brigitta Banki and Kate Lundquist, Stracker Solar
Farmers and ranchers all over the United States are increasingly interested in taking part in solar energy initiatives. Agrivoltaics can mean not only cleaner energy, but also savings on operational expenses, as well as the opportunity to develop a secondary income stream by selling the power to utility companies or to offtakers directly through community solar programs.
The available options for agrisolar are greenhouse roof-mounted solar, fixed ground-mounted systems, and elevated solar trackers. Let's look at the differences, pros, and cons of each type.

Greenhouse Roof-mounted Agrisolar
Fixed solar panels mounted on the roofs of greenhouses are generally the least efficient of all agrivoltaic solar solutions and come with limitations based on the location and roof direction of the structure. The ideal location for solar panels in the U.S. is facing south, with a secondary option of west-facing roof exposure.
In recent years, the popularity of greenhouse roof-mounted solar has grown since those buildings are generally built with a southern exposure. This option has the unexpected drawback of having a markedly negative impact on yields and energy output. One study from the University of Arizona found that when half the greenhouse roof was covered with conventional solar panels, crop output was reduced by 64% and panel productivity was 84% lower.
Fixed Ground-mounted Solar
Low ground-mounted solar panels are a slightly more efficient option. Available in different heights, the panels are installed on rows of metal racking: typical low ground-mounts are at 1 to 3 feet high, while high ground-mounts start around 6 to 7 feet high. A ground-mounted solar system has the advantage of relatively low installation costs, but the intricate support structure can greatly limit access and agricultural use of the land beneath and between the solar panels.
Only certain low-growing crops that are generally hand-cultivated and harvested (such as lettuce, chard, beets, spinach, and tomatoes) are easily grown beneath fixed solar arrays. Access for farm equipment, however, is reduced to the area between rows and only if the installation is designed accordingly. The space around and under a ground-mounted system can be used as grazing area for livestock, as well. However, grazing is only recommended for smaller animals like sheep and goats, in order to avoid damage to the panels or the supporting structure.
The advantages of fixed ground-mounted systems come from use with low-growing and shade benefitting crops. Benefits are particularly pronounced in regions with hot, dry climates like the American Southwest. Studies have shown that shading from solar panels can maintain and even increase crop yield while reducing water use, an especially welcome option for farms in the areas of the United States where drought is common and water rights are changing.
Elevated Solar Trackers
Elevated tracking solar is the newest and arguably most efficient solution for agrisolar due to the unique tracking design and elevated build. Dual-axis solar trackers have a drive core that moves the arrays along both east-west and north-south axes, maximizing the amount of time the panels receive direct sun exposure. Thanks to the ability to follow the sun's exact location throughout the day, dual-axis solar trackers provide an increase in energy generation of 50% or more compared to fixed solar power systems with the same number and type of panels.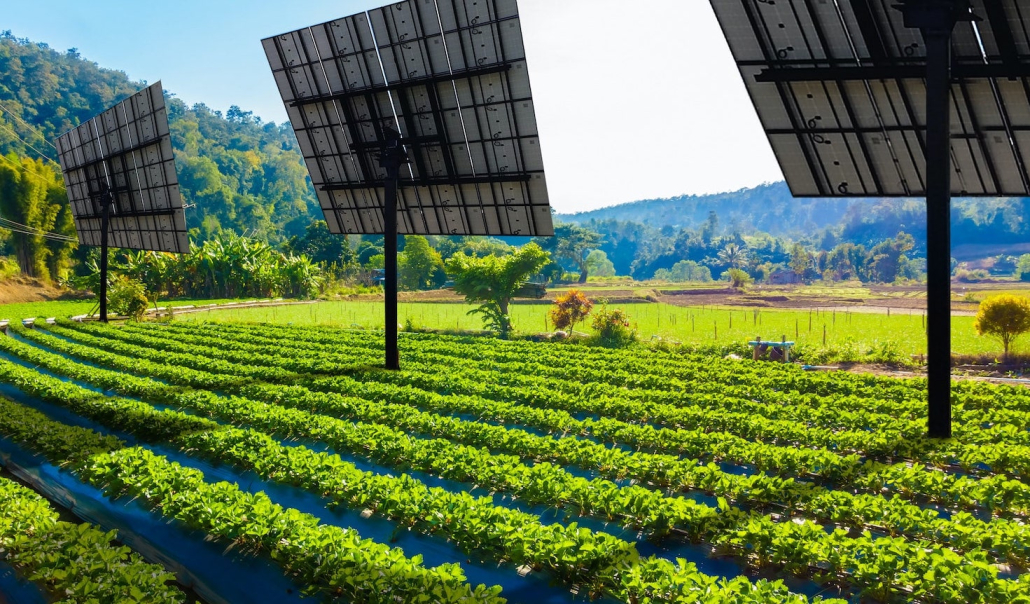 With maximized solar power production per panel, a small footprint, robust structure, and continued full use of the grounds, pole-mounted dual-axis solar trackers are also the most adaptable solar energy harvesting option for agrivoltaics. Single pole-elevated solar trackers, like Stracker Solar's elevated dual-axis solar trackers, maintain full use of the land below the solar installation. These high-efficiency trackers feature a 13.6-foot minimum ground clearance with a mounting base of a mere 5 square feet, allowing easy access for every type of farm equipment. Furthermore, since it takes fewer of these high-efficiency solar trackers to generate the desired amount of energy compared to their fixed counterparts, a smaller area is sufficient for the solar installation. The Stracker elevated dual-axis solar trackers deliver up to 70% more energy production compared to fixed solar power systems of the same size. They provide access to solar energy generation while avoiding the financial drawbacks associated with compromising land use or crop yield.
Conclusion
Elevated solar trackers are ideal for agricultural use but all are not created equal. Given the current options for investing in agrisolar, pole-elevated dual-axis solar trackers provide the most flexibility and highest rates of energy generation currently available. These giant mechanical sunflowers maintain full use of the ground underneath the system by accommodating crops and livestock of all types and sizes, including wheat, corn, and cows. Large farm machinery for soil cultivation, crop harvesting, and processing can operate under the panels. Elevated solar trackers make installation on uneven, hilly, or difficult sites a possibility, as well.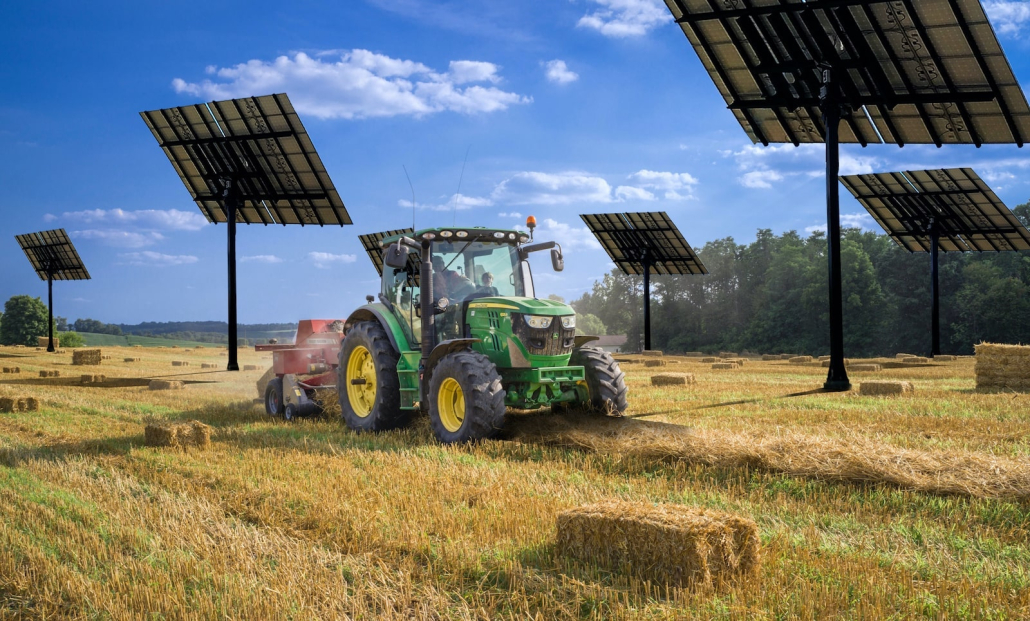 However, elevated dual-axis solar trackers vary greatly in design, materials, performance, and durability.
Some dual-axis solar trackers are built using cheaper, and less reliable, aluminum components to reduce costs, while others are built entirely of structural steel. The environmental conditions an installation needs to withstand for 30 or more years while maintaining optimum performance requires a high degree of stability and material strength, both of which are qualities of structural steel.
Material tolerance is another key aspect of solar tracking design that leaves no room for compromise. The build quality of solar trackers is determined by the way different parts of the drive core, as well as the bolts and plates are connected at each step of the way, down to the foundation. With loose connections and weak fittings that could be the result of weaker materials, a tracker could lose its ability to track accurately and perform safely over time.
The most complex, vulnerable, and expensive component of dual-axis solar trackers is the drive core mechanism. Some manufacturers use hydraulic motors and linear actuators, both of which can be the source of a variety of problems. A typical example is hydraulic tank leakage, which makes the tracker stop moving until replaced. These drive systems are often built of galvanized steel and aluminum, though they have plastic components as well, and they don't meet the structural code requirements of many states. Slew drives are a more durable solution, yet fewer manufacturers use them because they are more expensive and require a higher level of precision to install. Stracker Solar's elevated solar trackers are built entirely of structural steel and each unit uses two robust electrically driven slew drives for decades of strong performance.
High-quality materials, reliable design, and precision in assembly make a huge difference to the performance and durability of dual-axis solar trackers. But one cannot inspect all the screws and bolts before making a purchase decision. How can one have confidence that the chosen elevated solar tracker will work well in the long run?
That's where structural warranty comes into the picture.
When calculating return on investment, one needs to consider the accompanying product warranty very carefully. The return on a system with a 10-year warranty is quite different from the return on a system with a 30-year warranty. Since after a 10-year warranty expires, farmers and ranchers will be responsible for the cost of troubleshooting and repairing any structural defects, which can significantly reduce their return over a longer period. Especially when we factor in that manufacturers who only offer a 10-year warranty are likely doing so because they know that their system failure rate beyond 10 years is too high. Stracker Solar is unique in offering a 30-year structural warranty on their elevated dual-axis solar trackers.
Researching available elevated dual-axis solar trackers and other applicable PV systems thoroughly and comparing key features, as well as considering power production data and costs, are very important steps before deciding on an agrivoltaic solution.
As the United States moves towards a zero-carbon future, farms and ranches have the opportunity to become primary sites for community and utility scale solar installations, increasingly supported by funds from the USDA. Elevated solar trackers provide an attractive option for agricultural operations looking towards solar to reduce operating expenses and/or establish a reliable secondary revenue stream.
All photos courtesy of Stracker Solar
https://www.agrisolarclearinghouse.org/wp-content/uploads/2023/02/Drone-SW-Stracker-elevated-solar-trackers-at-SOU-farm-web.jpg
900
1600
Anna Adair
https://www.agrisolarclearinghouse.org/wp-content/uploads/2022/02/AgriSolar_stacked_1-338x400.png
Anna Adair
2023-02-27 18:29:32
2023-02-28 19:05:01
Elevated Solar Trackers Offer a Compatible and High-efficiency Agrisolar Solution for Farmers and Ranchers