New Mexico's Chile Crop Is Hot on Agrivoltaics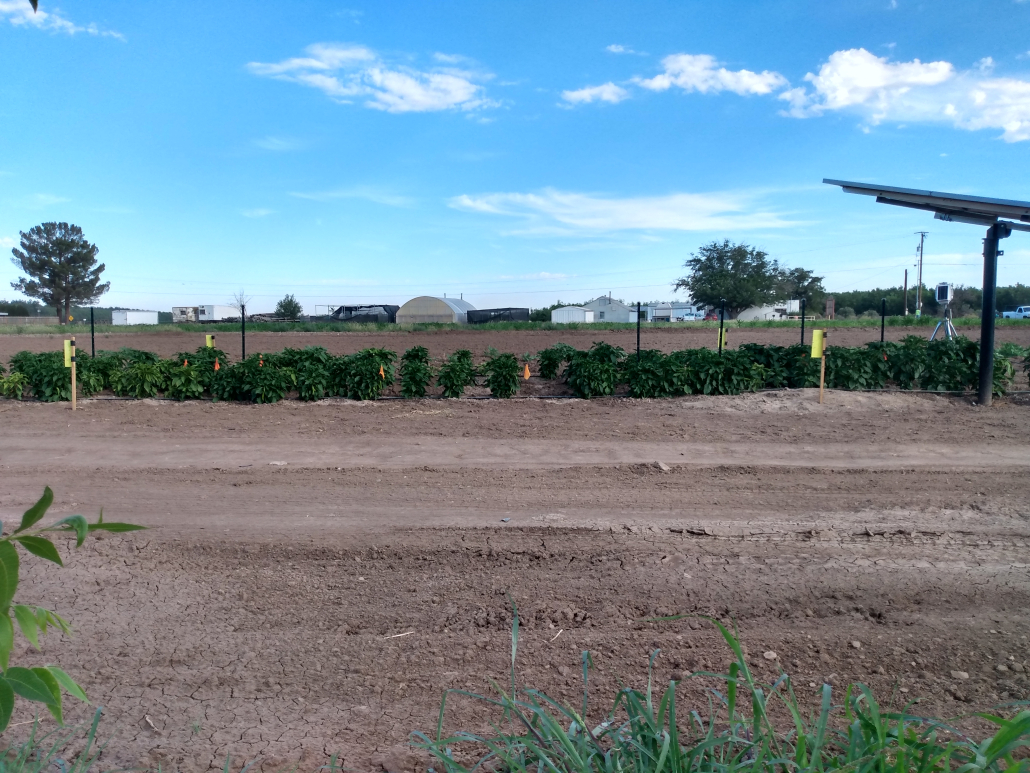 Chile plants within shade of photovoltaic panels (right) and chile plants cultivated in full sun (left).
Written for the AgriSolar Clearinghouse by Israel Joukhadar and Stephanie Walker, New Mexico State University  
New Mexico has tremendous potential in solar energy production thanks to its consistently sunny weather and high levels of solar irradiance. Presently, the state's solar market holds a value of $3.2 billion with significant room for expansion. As stakeholders express increasing interest, they are discovering a trend observed in several other states: some of the most favorable locations for extensive solar developments are within agricultural production fields. The concept of integrating photovoltaic (PV) panels into these fields, known as agrivoltaics, has gathered attention and investment.
Chile (Capsicum annuum L.) holds significant importance as a vegetable crop in New Mexico. Chile was initially brought to New Mexico more than 400 years ago and it has been continuously cultivated throughout the state since that time. Its cultivation and trade hold immense cultural importance to New Mexico, while simultaneously contributing to the state's economy by providing income and employment to farmers and through supporting industries. Producers in the state harvest both red and green crops. Green fruit are full size, but physiologically immature, while red fruit are physiologically mature. The question of "Red or Green?" is the official state question, symbolizing the preference for either red or green chile and showcasing cultural attachment to this beloved crop.
New Mexico State University is home to the longest running chile pepper breeding and genetics program in the world. This initiative traces its roots back to 1888, when it was initiated at the New Mexico College of Agricultural and Mechanic Arts, the precursor to NMSU, under the guidance of Fabián García, the first director of the Agriculture Experiment Station. Dr. García embarked on a journey of breeding and selection that eventually led to the development of New Mexico pod-type chile, which is now globally recognized as New Mexico type (NM) or Hatch chile. Over the course of its existence, the NMSU chile breeding program has introduced more than 50 distinct chile varieties.
New Mexico is the largest chile producer in the US; however, since peak production in the early 1990s, there has been a reduction in acreage. The decline was the result of various factors including labor shortages, increased international competition, and heightened disease pressure. Increasingly, heat stress and irrigation availability are adversely impacting the crop. To protect and sustain NM chile production, it is imperative to implement a multifaceted approach to address various challenges encountered by producers throughout the production and post-harvest processes. More than a decade ago, research scientists at NMSU initiated efforts to develop mechanized harvesting solutions, aiming to alleviate the challenges posed by labor shortages. Now, those very research scientists are joining the agrivoltaics research movement. Their goal is to address additional challenges faced by NM chile producers. They are exploring co-location of PV panels within agricultural fields as a potential strategy to address certain challenges. Thanks to a grant from the New Mexico Department of Agriculture awarded to Drs. Thompson, Walker, and Lavrova, research has begun in evaluating how solar panel shading affects the movement of beet leafhoppers. These leafhoppers are vectors for the Beet Curly Top Virus (BCTV), a significant disease impacting the state's signature chile pepper crops.
Infection with BCTV results in various symptoms including stunted growth, curling and twisting of leaves, and the production of small unmarketable fruit. The specific symptoms may vary based on the plant's growth stage when it becomes infected. Previous research has shown that beet leafhoppers tend to avoid shaded areas and exhibit peak activity between 10 am and 2 pm. The concept was to leverage the shade provided by solar panels as a means of deterring beet leafhoppers with the goal of reducing the incidence rate of the BCTV while not adversely impacting yields of chile peppers grown under the PV panels. This research was conducted at NMSU's Leyendecker Plant Science Research Center, located near Las Cruces, NM. Before the first season, four fixed PV panels were installed, adhering to low-impact installation guidelines to minimize land disturbance. The panels were facing east. Although this is not the most efficient orientation for energy generation, it was ideal to shade the chile between 10 am to 2 pm. Then 'NuMex Odyssey,' a green chile variety developed for mechanical harvest, was transplanted into the field in the beginning of May and harvested in mid-August 2023. After completing the initial field season, many valuable insights were gained that will be useful for interested NM stakeholders. Preliminary results indicate potential yield and BCTV prevention benefits to chile plants cultivated under the shade of PV panels, but a second year of data is necessary to draw more specific conclusions.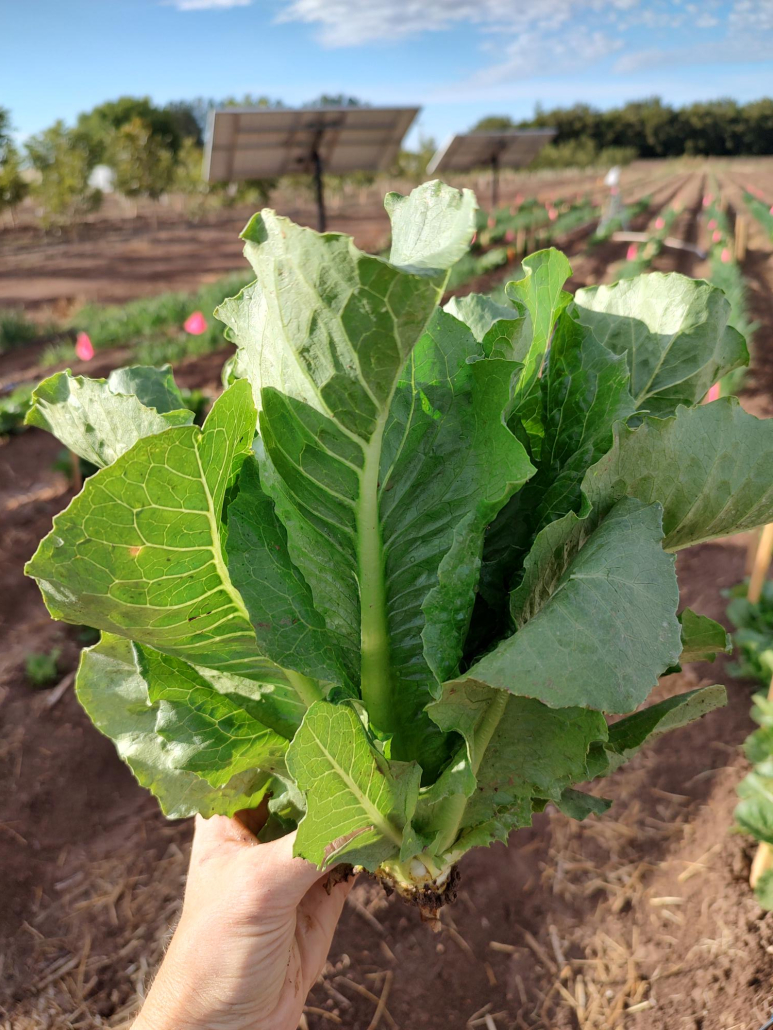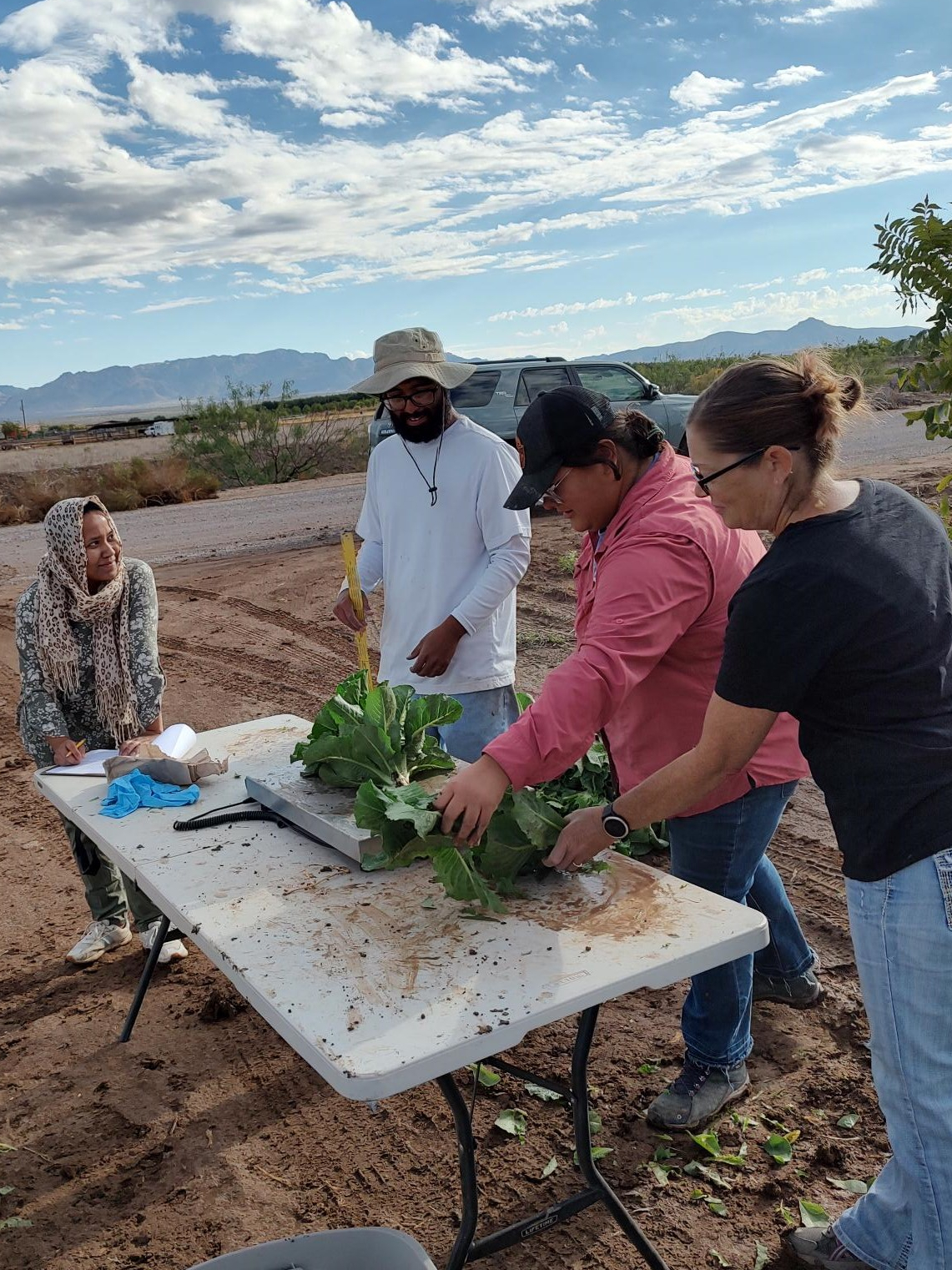 Romaine lettuce harvested from partially shaded area under photovoltaic panels
Danise Coon, Mariela Estrada, Isaac Medrano, and Jannatul Afroze (left to right), measuring harvested lettuce.
Traditionally, chile is cultivated within a crop rotation strategy to mitigate soil-borne diseases. To mimic this rotation cycle, romaine lettuce (Lactuca sativa) was planted immediately after the chile crop in the beginning of September and harvested by the end of October 2023. During this transition, the orientation of the solar panels was modified from an east-facing direction to a south-facing one. The shift in panel orientation served two primary purposes: 1) During the chile growing season, shading between 10 am and 2 pm was essential to deter beetleaf hoppers. As the crop changed to romaine lettuce, this shade was no longer necessary and 2) With the advent of cooler mornings in September and October, increasing the morning sunlight became imperative to warm the plants effectively. This transition prompted a crucial consideration in the fundamental objective of each agrivoltaics site. Should it aim to maximize energy generation or crop production?
Our present objectives include conducting a repeat of both these studies next year and sharing research outcomes with the public. Alongside our ongoing research, we are actively pursuing funding to broaden our investigations. This expansion will encompass flavor and nutrient analysis of the crops, various vegetable types and varieties, optimal irrigation designs, as well as further explorations into pest and diseases with agrivoltaic systems in New Mexico.
Photos courtesy of Israel Joukhadar.
https://www.agrisolarclearinghouse.org/wp-content/uploads/2023/11/Lettuce-Harvest-Team_2023-edited.jpg
1522
1141
Anna Adair
https://www.agrisolarclearinghouse.org/wp-content/uploads/2022/02/AgriSolar_stacked_1-338x400.png
Anna Adair
2023-11-08 15:19:37
2023-11-08 15:20:52
New Mexico's Chile Crop Is Hot on Agrivoltaics