Shaker Village of Pleasant Hill Solar Grazing in Kentucky 
By Allen Puckett, NCAT Technical Writer
In Harrodsburg, Kentucky, a flock of sheep is successfully grazing on a solar array at the E.W. Brown Farm, thanks to a collaboration between Shaker Village of Pleasant Hill and LG&E. This operation is Kentucky's largest solar farm, consisting of 44,000 solar panels on 50 acres.
Shaker Village's flock grew from 125 Shetland sheep to more than 200 sheep—with 15 ram and ewe lambs born in Spring 2023, and more expected in the near future. Of these 200 sheep, more than 50 moved to the Brown Solar facility in April of 2023.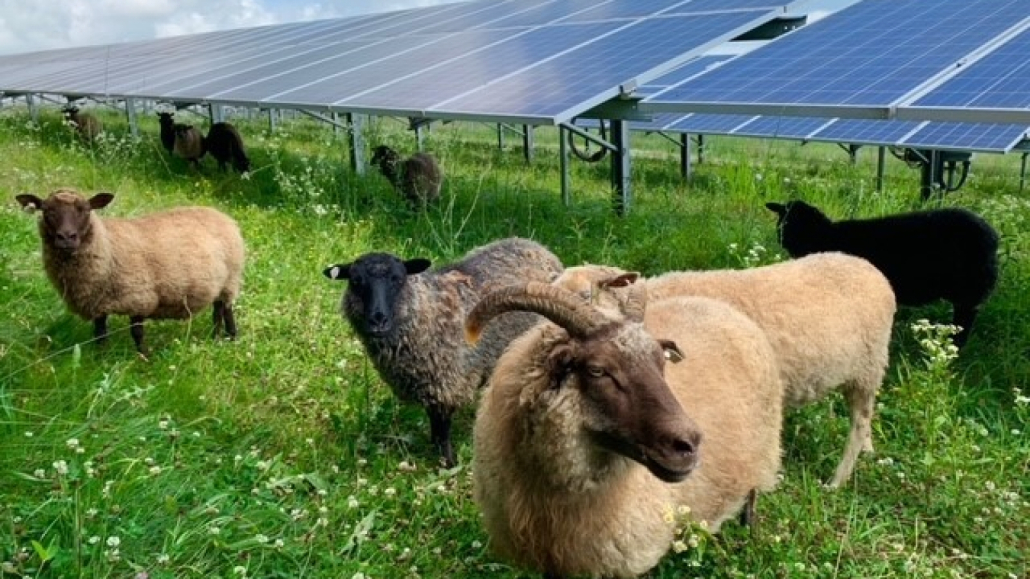 Utilizing sheep on the solar array is not only more environmentally friendly, but it will also save the company and its customers money in the long-term by offsetting the cost of using traditional (gas-powered) lawn mowers. Managing vegetation with sheep is also safer than using traditional mowers and weed eaters beneath and around solar panels, according to the E.W. Brown farm.
"By using sheep to graze what is Kentucky's largest solar farm, instead of lawn mowers, we're being more environmentally friendly and holding down maintenance costs for our customers," said Aron Patrick, director, Research and Development. "What started as a research project is laying the foundation for sustainably integrating more solar generation into our portfolio, and we hope the unique way we're managing it can be a model for solar sites around the world." – https://lge-ku.com/sheep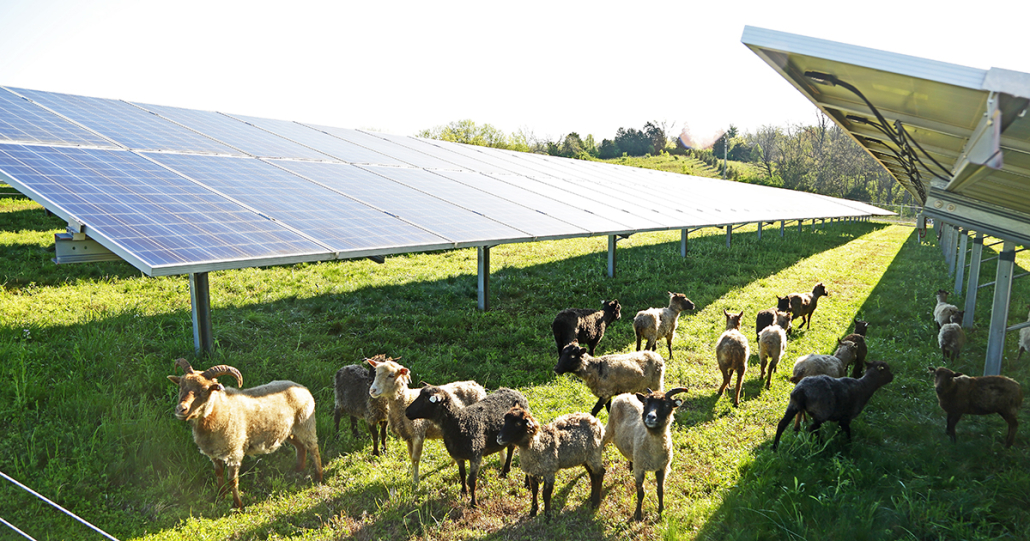 Shaker Hill uses Shetland sheep, a heritage breed, on the E.W. Brown solar site. This breed originates from the highlands of Scotland and was common in the 19th century when the Shakers occupied the Pleasant Hill area. This allows Shaker Hill to connect their farm story directly to the Shaker's agricultural history. Also, importantly, Shetlands are a smaller breed of sheep, and their size allows them to access the hard-to-reach areas of the solar arrays, whereas a larger breed might not be as efficient in maintaining vegetation growth. Shetlands are also known for their resilience in poor forage conditions, long life span and natural lambing ability.
"We're happy to provide a green and sustainable way to help care for our neighbor's land," said Shaker Village farm manager Michael Moore. "Our farm gravitates toward heritage breeds, like Shetlands, that were raised by the Shakers of Pleasant Hill. This allows us to connect our farm story directly to the agricultural history of this region."
The 50 sheep moved to the site in April 2023 will graze throughout the spring, summer and fall, and then they will be transported back to the Shaker Village Farm for the winter months.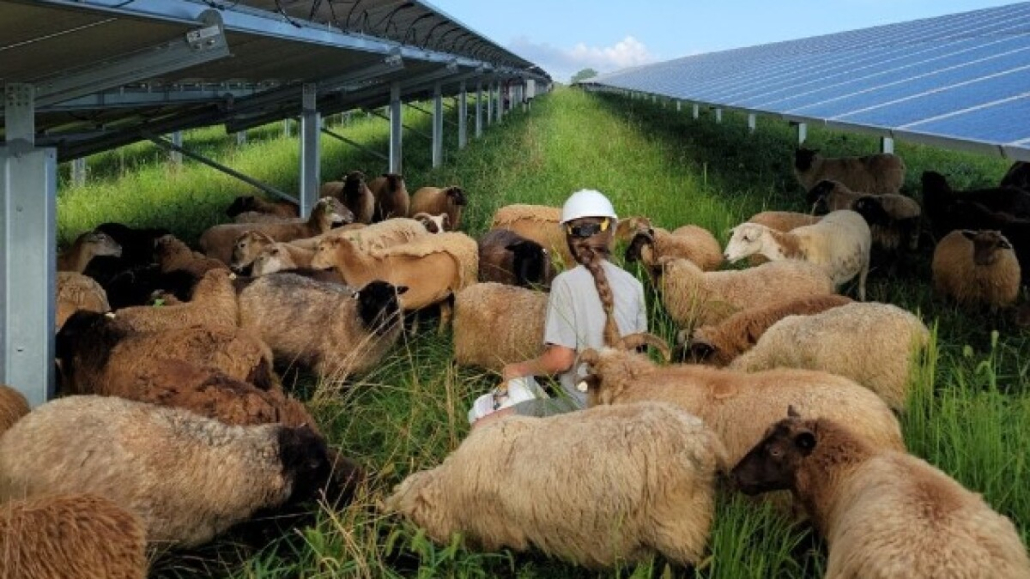 There are also two Anatolian Pyrenees cross-bred dogs on-site that aid in protecting the sheep from predators. The guardian dogs live with and provide protection to the flock year-round. The team at Shaker Village manages the daily care of the dogs.
The successful partnership between Shaker Village, LG&E has inspired the launch of the children's book, Levi the Lamb's Big Day. The book follows a sheep named Levi as he grazes a solar facility. The book was written by LG&E and KU manager of Technology Research and Analysis, Aaron Carter, and is available for purchase online or at the Shaker Village Gift Shop.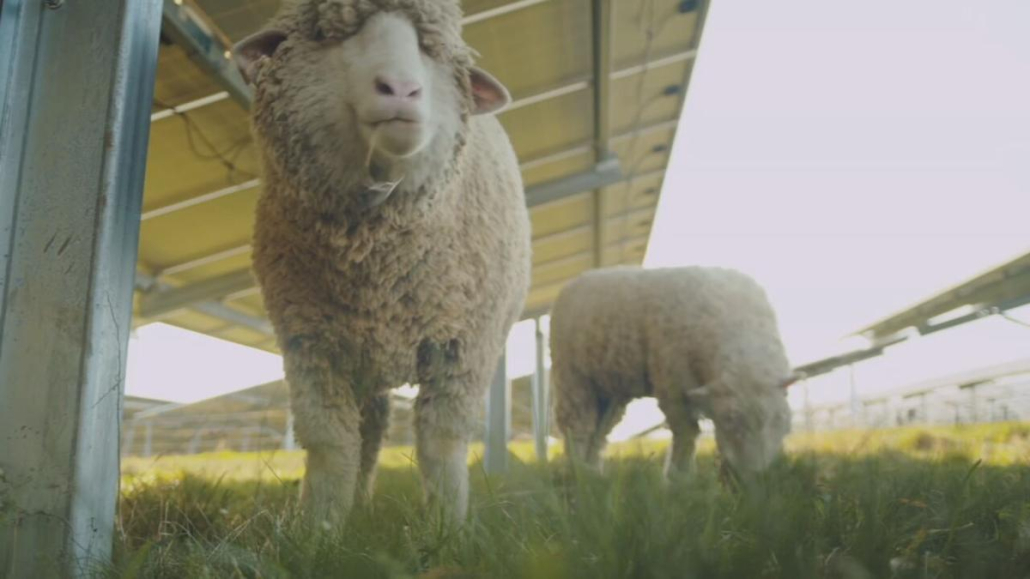 Shaker Village also has a "ewe tube" camera, where people can watch a live feed of the solar array. You can watch the sheep graze the facility here.
https://www.agrisolarclearinghouse.org/wp-content/uploads/2023/09/E.W.-Brown-Sheep_20200410_091545-sheep-cam-cred-LGE-photo-4.png
900
1600
A. J. Puckett
https://www.agrisolarclearinghouse.org/wp-content/uploads/2022/02/AgriSolar_stacked_1-338x400.png
A. J. Puckett
2023-09-06 11:00:49
2023-09-14 07:05:55
Shaker Village of Pleasant Hill Solar Grazing in Kentucky