Agrisolar as Drought Protection  
By Asaf Maman and Avi Elkayam, Trigo Solar
Declining precipitation levels and the associated reduction in arable land can negatively impact rural communities and pose a threat to food security. While utility-scale solar projects reduce greenhouse gas emissions, they can also encroach on arable lands and reduce the yield of rainfed crops. Wheat, barley, soy, corn, and other grains are cultivated in rainfed fields that are vital to food security. As precipitation levels decline and desertification spreads, arable land and farms that produce these crops are in peril.
As solar energy is employed in the conversion from fossil fuels to renewable energy, hundreds of thousands of square miles of land will include solar development. According to the National Renewable Energy Laboratory, there will be roughly 22,000 square miles of solar in the U.S. by 2035i. It is important to understand that the actual land for solar development must be adjacent to grid or to power demand centers. The growing competition between farming, suburban development, and solar development highlights the potential for agrivoltaics.
Agri-PV is a solution to this issue. It can significantly improve the cultivation of staple foods that substantially affect global food security by cracking the code and untying the water-land knot. By increasing the amount of water available for rainfed crops, we can increase the amount of arable land and avail a portion of it for sustainable solar development.
In a series of field-controlled winter wheat experiments, Trigo has discovered an almost linear correlation between the amount of water supplied to cultivated area and the quantity of stem biomass and nutritional value. Based on these findings, Trigo designed an east-west solar array formation and solar table structure to both collect and regulate rainwater for redistribution into a cultivated row below. By increasing the rain capture area from both structures, enclosing, and effectively directing the rain, we managed to control the amount of water and increase it, countering the effects of declining precipitation over years.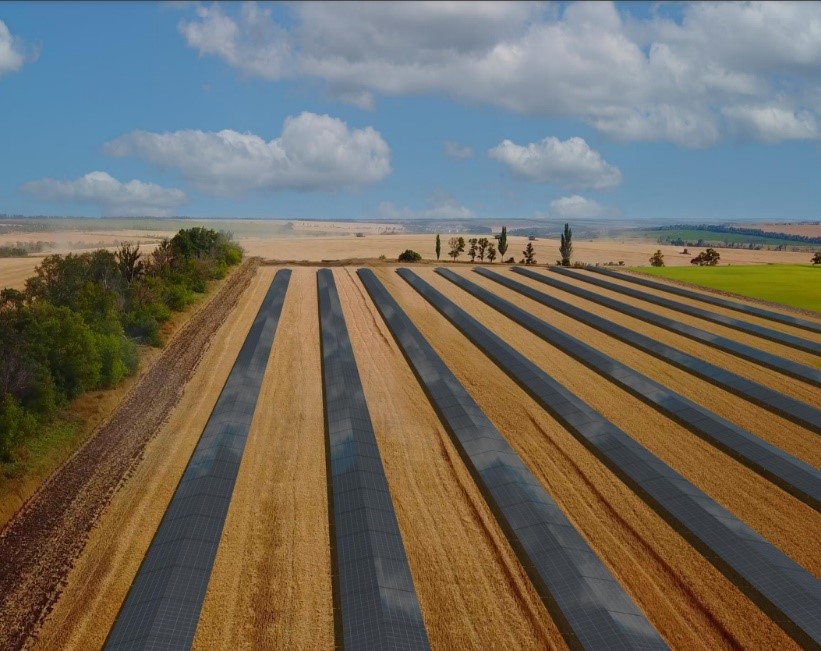 North-south solar array over winter wheat. Photo: Trigo Solar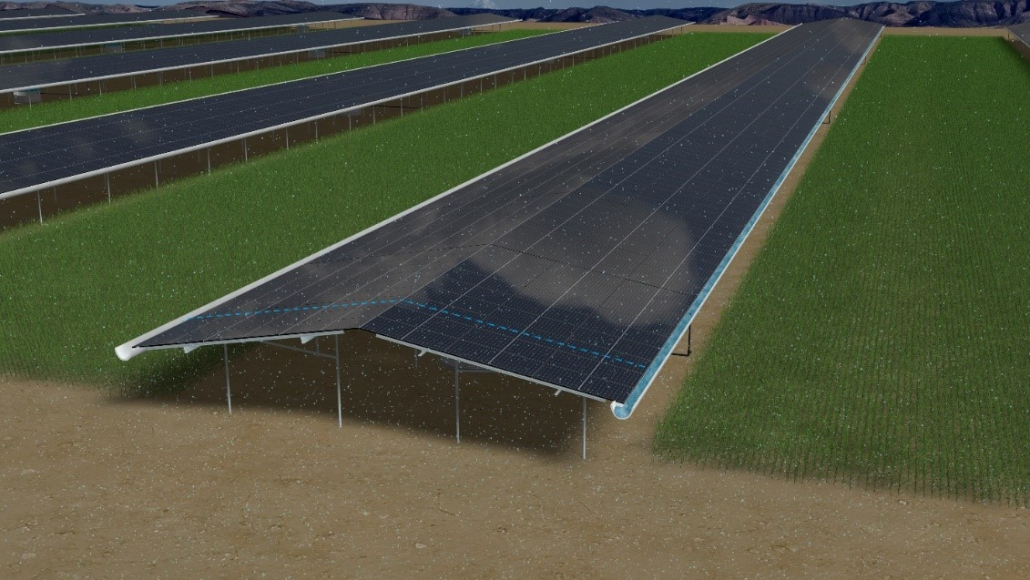 Design schematic. Source: Trigo Solar
This design is focused on economic and efficient deployment of solar arrays that improve rain collection and redistribute water to boost crops growth, counter drought effects, and revive agricultural operations.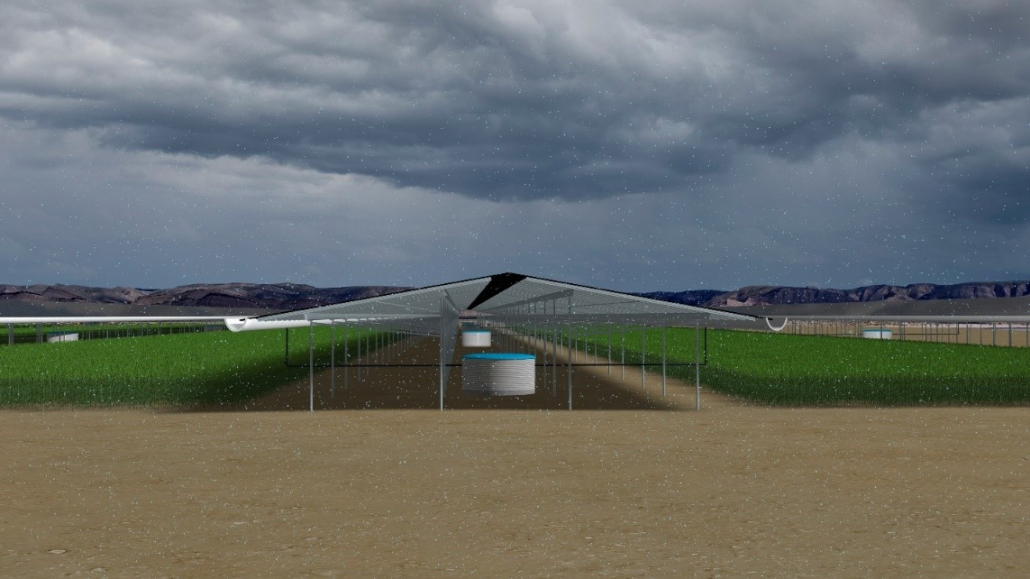 Rainwater catchment design schedmatic. Source: Trigo Solar
Benefits to this design include:
Maintaining the same yields from smaller cultivated surface area requires more limited farming operations and lower expenses, which can increase farm profitability.
Capturing more water and channeling it smartly reduces the risk of drought and the associated annual volatility and provides the farm with a drought shield.
Increased ground wetness, root growth, and wind shield from the solar rows reduces the erosion and carry away of the upper soil layer, which create irreversible damage to farms.
Preserved land under the Trigo structure can be used for future land reserve and land rotation.
The steady income from solar power generation can support farm economics and mitigate farming financial risks.
The availability of cheap, local, green power can further support many of the farm operations expected to undergo electrification in the coming decade.
The existence of a water-distribution and cheap-power system changes the economics of farming, potentially allowing the cultivation of second seasonal crop during the dry season.
These benefits have the potential to create more win-win opportunities for effective cooperation between the agricultural and sustainable energy sectors.
Trigo will continue its experiments to validate the benefits for major U.S. staple crops at U.S. farms to share the knowledge and promote sustainable mass Agri-PV development.
https://www.agrisolarclearinghouse.org/wp-content/uploads/2023/01/sunny-farmscape.jpg
800
1200
A. J. Puckett
https://www.agrisolarclearinghouse.org/wp-content/uploads/2022/02/AgriSolar_stacked_1-338x400.png
A. J. Puckett
2023-01-11 08:02:53
2023-01-11 08:06:11
Agrisolar as Drought Protection