Case Study: James River Grazing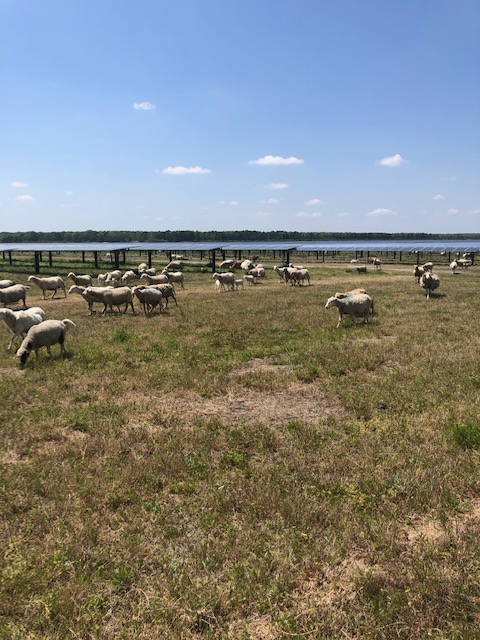 By Anna Adair, NCAT Energy Program Assistant
Located near Richmond, Virginia, the Mechanicsville solar park is one of the state's first utility-scale solar sites. Covering over 220 acres, the 28-megawatt, single-axis tracking site provides a source of clean power to thousands of homes in the state. More than just a solar site, though, the location is also the home base for hundreds of sheep under the care of Eric Bronson and Sam Perkins at James River Grazing. 
James River Grazing started in 2016 when founder Eric Bronson noticed the solar industry beginning to take off in Virginia. A Virginia native, Bronson attended college at Montana State University and worked for several years on large, range-based livestock operations before returning to his home state. He knew he wanted to stay involved in agriculture, but without already owning land, he realized the upfront costs were prohibitive. Compared to raising cattle or growing crops, the lower initial investment needed to successfully farm sheep gave Bronson the chance to farm in a traditional production environment before the company received its first solar grazing contract in 2019.
For solar sites without grazing plans, mowing must be brought in for vegetation management, a difficult task for many solar developers in recent years due to labor shortages. "The grazing came along at the perfect time," Bronson says. He explains that the Mechanicsville site was being mowed about once a month, but with the integration of livestock, it was reduced to a "clean up" mow in the fall and smaller mows in early spring. Even then, "they're not mowing one hundred percent of the site," Bronson explains. Only about a quarter of the site is mowed at these times, significantly lowering the time and labor cost required to control the vegetation.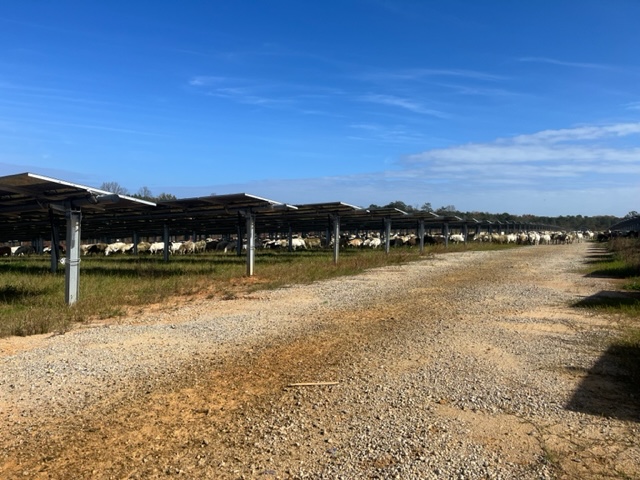 Operating on the Mechanicsville site didn't come without its challenges, however. The site hosts between 100 and 300 ewes at a time, depending on the time of year and vegetation growth. While smaller operations will move flocks on and off location seasonally, James River Grazing operates on the site year-round. Not having facilities on-site and the expansive costs to move the sheep off-site is an added layer of difficulty that comes with grazing sheep on utility-scale sites. "Everything has to be portable," Bronson points out. Nonetheless, James River Grazing's efforts have been so successful that SunEnergy1, the solar developer for the site, hired Bronson as Director of Livestock for the entire company and has implemented solar grazing on a number of other sites, as well.
With a total of six grazing sites and around 1,500 sheep, Bronson says James River Grazing is looking to continue its success by creating additional partnerships with developers across the region. While being one of the first to embrace solar grazing comes with some advantages, it also means that learning involved a significant amount of trial and error. "That was one of the biggest roadblocks," Bronson says, referring to the lack of available resources to help guide them in the early days. Their knowledge and experience also put them in an ideal place to help solar developers create construction plans with solar grazing in mind, making it much easier for grazers to care for the sheep on site. James River Grazing is still working out the details for exactly how they plan on moving into the consulting space, but their track record of success will undoubtedly make them a valuable resource for solar developers and new grazers alike.
All photos courtesy of James River Grazing.
https://www.agrisolarclearinghouse.org/wp-content/uploads/2023/03/JRG.jpg
408
408
Anna Adair
https://www.agrisolarclearinghouse.org/wp-content/uploads/2022/02/AgriSolar_stacked_1-338x400.png
Anna Adair
2023-03-13 01:53:00
2023-09-12 09:18:53
Case Study: James River Grazing