USDA Joins Great Plains Institute and Big River Farms in Minnesota Agrisolar Project
"Officials from the U.S. Department of Agriculture (USDA) joined Great Plains Institute (GPI) and Big River Farms announced GPI and Big River Farms' 'Solar Farmland Access for Emerging Farmers' demonstration projects alongside project partners Connexus Energy and US Solar. As the country and Minnesota both take steps to convert our energy supply to be derived from carbon-free sources, this pilot project is setting out to solve for how solar energy development can be increased while also preserving agricultural land for the people who grow the state and nation's food.
Funded by the Mortenson Family Foundation and with additional support from the National Renewable Energy Lab (NREL) and Argonne National Lab, these agrivoltaics projects aim to demonstrate safe and scalable operational practices for electric cooperatives and solar site owners to provide farmland access for emerging farmers inside the fence of solar facilities." – Globenewswire.com
AgriSolar Clearinghouse's Follow the Sun Tour Visits Oregon
The AgriSolar Clearinghouse's Follow the Sun Tour visited the North Willamette Research and Extension Center in Aurora, Oregon, on September 18, 2023. The research center hosts an agrivoltaic project, where the University of Oregon studies combining crops and solar energy on the same parcel of land. Event attendees participated in a tour of the agrivoltaic site, guided by lead researcher Dr. Chad Higgins. After the tour, everyone enjoyed a lunch and round-table discussion in the conference room of the facility.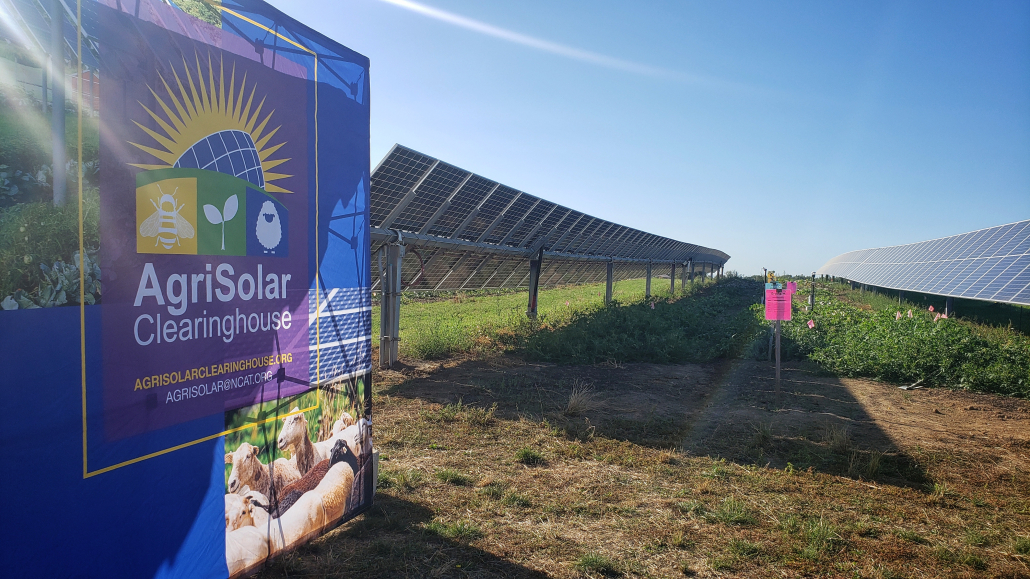 The research conducted at the facility includes showing that solar arrays could be used as resources for plant productivity and that solar panels on agricultural lands maximizes their efficiency. Attendees discussed details related to these studies during the tour, which also included financial questions and scalability.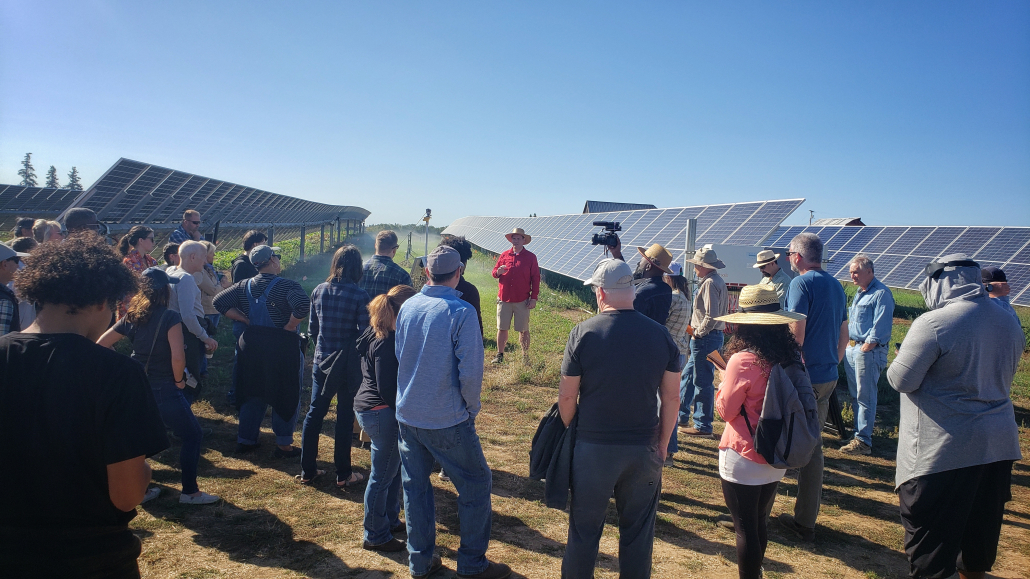 Blue Wave in MA Secures $91 Million for Agrisolar Development
"Northeast U.S. solar developer and operator BlueWave received $91 million in financing, which the company says will allow it to achieve long-term ownership and management of its portfolio of projects.
The financing will go toward the construction of five projects featuring dual-use solar development attributes, called agrivoltaics, in Massachusetts. These projects are "strategically implemented to benefit all parties impacted by the projects," including landowners, farmers and the surrounding community, according to BlueWave. The financing includes a $64 million debt raise with KeyBank, and $27 million tax equity raise with U.S. Bancorp Impact Finance."– PV Magazine
Wisconsin Bill Introduces the Protecting Future Farmland Act
"U.S. Senators Tammy Baldwin (D-WI) and Chuck Grassley (R-IA) introduced the Protecting Future Farmland Act, new legislation to support farmers' land stewardship efforts as many choose to deploy solar energy on their land. The legislation will ensure that federal investment in rural energy projects prioritizes both land stewardship and responsible deployment of renewable energy to protect America's farmlands for future cultivation." Senate.gov
https://www.agrisolarclearinghouse.org/wp-content/uploads/2022/05/agrisolar-roundup-photo-scaled.jpg
2560
2378
A. J. Puckett
https://www.agrisolarclearinghouse.org/wp-content/uploads/2022/02/AgriSolar_stacked_1-338x400.png
A. J. Puckett
2023-10-02 08:07:16
2023-10-02 08:08:16
AgriSolar News Roundup: Minnesota Agrisolar Project, Follow the Sun Tour in Oregon, Agrisolar Funding in Massachusetts, Protecting Future Farmland Act in Wisconsin